Mutangs Win Despite Sluggish Performance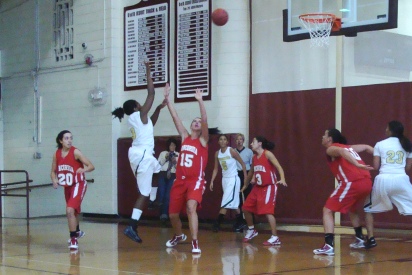 BERRIEN SPRINGS, Mich.-The Mustangs were able to escape Andrews University with a win despite playing one of their worst games of the season. An early season 89-46 rout of the Cardinals was a prelude to Wednesday's showdown that ended in a much different fashion.
Keara Marks led the Mustang charge once again with 15 points. The former Renaissance standout also snagged eight rebounds while knocking down 7-of-10 from the charity stripe. Maria Martin followed in double figures with 12 points and four assists…junior forward Santrea Bush added seven points and seven rebounds…junior forward Ebony Jackon (pictured) contributed three steals, blocks, and rebounds on the night.
The Mustangs will use a couple days of practice to regroup before heading to NCAA D2 Urbana University on Saturday. The Knights come into the game winners of eight of their last nine games. Tip-off is set for 2pm Saturday.