Marygrove Women's Basketball Adds Mumford's Eddings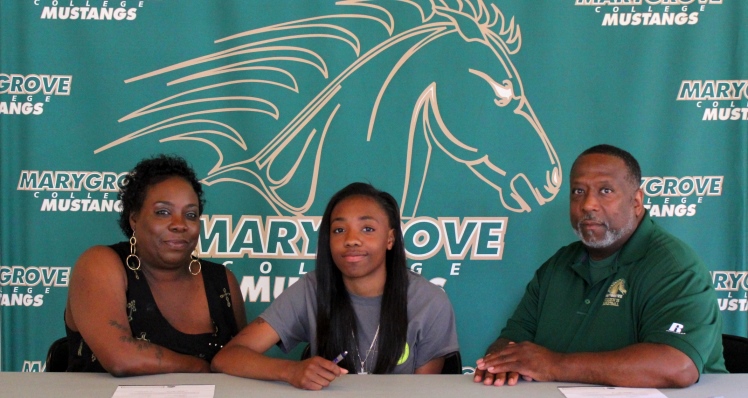 STAY CONNECTED: Facebook | Twitter | Instagram | YouTube
BE THE FIRST TO KNOW:Â Text & Email Alerts
DOWNLOAD OUR APPS:Â iOS (iPhone/iPad)Â |Â Android
PHOTO GALLERY
DETROIT — The summer of signings continued for Marygrove women's basketball on Wednesday (June 24) when head coach Craig Covington announced the addition of Shyrah Eddings to the 2015 class. Eddings is a 2015 graduate of nearby Mumford High School in Detroit and will join the Mustangs when the fall semester begins in September.
Eddings will not have to travel far for her college experience or change who she roots for – traveling less than a mile between campuses that go by the same Mustangs name. The signing is the second of the 2015 class for Covington and the women's basketball staff.
A 5-foot-5 off-guard, Eddings comes to Marygrove with four years of varsity experience after being called up midway through her freshman campaign for the Mumford Mustangs. Eddings was active off the hardwood as well by running three years of cross country and playing three seasons of varsity softball at Mumford.
The three-sport student-athlete capped off her high school career by being named the most athletic out of the 2015 class at Mumford High.
COACH COVINGTON'S TAKE
"Shyrah brings us added tenacity on defense and great athleticism," said Covington. "Her addition gives us plenty of quickness out of the two-spot on the floor, joining an athletic corps of returning wings in our program. We are very glad to add Shyrah to the 2015 fold and we look forward to coaching her this fall."
WOMEN'S BASKETBALL CONTACT: Tim Johnston |Â @tjohnston56
MARYGROVE BROADCASTS: Mustang Sports Network | Twitter
SOCIAL MEDIA:Â Women's Basketball on Twitter