Mustangs Sign Talented Pollock to 2010 Class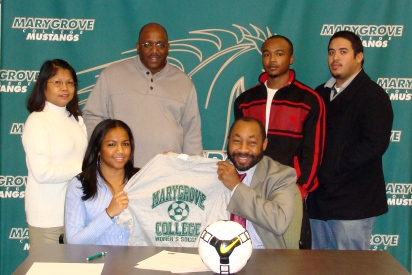 DETROIT, Mich.-On Tuesday, the Mustangs signed their first recruit after winning the 2009 USCAA National Championship as former Virginia high school star Jenalyn Pollock inked a letter of intent with family at her side. The signing would be the second overall for the 2010 class (Bianca Berry – Dearborn Crestwood).
Pollock, a 5'3″ athletic defender, comes to Michigan after a successful high school career at Prince George High School in Virginia. While at Prince George HS, Pollock was named All-District and Defensive Player of the Year in 2007. Pollock is excited to join the Mustangs after their recent success and is no stranger to success of her own. In 2006, she helped lead her team to a Virginia Soccer League (VSLI) State Championship.
Over the course of an 11-year career, Pollock lists her Senior Night game at PGHS against rival Colonial Heights as her favorite sports moment. She played the best game of her life en rout to a shutout victory over the powerful Colonial squad. Pollock plans on majoring in social work after completing her associate's degree in the spring.
Coach (Williams) Comments: A tremendous addition to our program. Her skill and knowledge of the game will help immediately. She is expected to come in and fight for a starting spot from day one of training camp. Jenalyn is a player with a great work ethic both on the field and in the classroom and we are very pleased to welcome her into our program.