#MGTop10 – #1: Men's Soccer Secures Home Playoff Game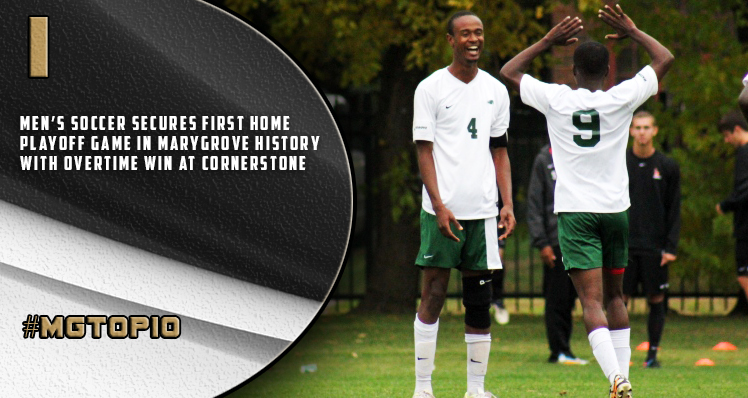 STAY CONNECTED: Facebook | Twitter | Instagram | YouTube
BE THE FIRST TO KNOW:Â Text & Email Alerts
DOWNLOAD OUR APPS:Â iOS (iPhone/iPad)Â |Â Android
Drumroll please…your number one spot in the #MGTop10 goes to men's soccer, or @MGroveMSOCCER on twitter, for the team's overtime win that propeled the Mustangs to the school's first home playoff game for any sport. Yes, the men's soccer team chimed in with a top moment or two before, but this moment tops all so far. In the brief history of Marygrove athletics, no team before the 2014 version of men's soccer had ever hosted a playoff game. That all changed when Oneil Robinson sent home a golden goal in the 109th minute to lift the Mustangs to a 2-1 victory at Cornerstone on Oct. 25, 2014. The home win over Aquinas was important earlier in the year, but this was the win that cemented in the Mustangs as a top-four seed in the conference and gave head coach Matt Johnson and the squad the right to host a conference tournament game. 
Congratulations to the men's soccer team and ALL of our #MGTop10 teams/individuals. We have a feeling the 2015-16 edition of #MGTop10 will be the best countdown yet!
READ THE FULL STORYÂ HERE!
——————————————————————————————————————————————————-
ORIGINAL RELEASE
GRAND RAPIDS, Mich. – The Marygrove men's soccer team battled the host Cornerstone Golden Eagles for 90 minutes, and then some, Saturday (Oct. 25) in Grand Rapids, winning 2-1 in double-overtime behind a golden goal in the 109th minute. The late-game heroics secured the first home playoff game in Marygrove history, keeping sixth-year head coach Matt Johnson and the Mustangs (7-8-1, 6-1-1 WHAC) in contention for any of the WHAC's top four seeds with two games to play.
The game-winning tally, sent in by junior forward Oneil Robinson (Montego Bay, Jamaica/Cornwall College), was the latest goal scored in a game in program history – four minutes later than Jordan Berry's game-winning tally (105′) in the conference playoffs on Nov. 3, 2012.
In the first half, the Mustangs were held in check by a strong Golden Eagle defense as the game played to a scoreless opening stanza.
The Golden Eagles struck first at the 58′ mark when Tristan Esprit's corner kick found the head of Josh Binnendyk for the game's opening tally. Trailing 1-0 in the second half, the Mustangs then started their rally, pinning in the Golden Eagles thanks to increased pressure on the offensive end.
The Mustangs sent numerous chances on net, only to be turned away until the late-game theatrics started.
In the 85th minute, freshman forward Vincent Umejeigo (Lagos, Nigeria/Wayne County CC) was finally able to provide the much-needed equalizer for the Mustangs after Abdoulie Jallow (Bansang, The Gambia/Rust College) sent a well-timed ball forward to knot the game, 1-1. The goal helped the Mustangs avoid a crucial road setback, sending the game to overtime after 90 minutes couldn't settle the score.
The first of two 10-minute overtime periods didn't produce a goal as the Golden Eagles narrowly outshot the Mustangs, 2-1, sending the game to its final frame.
From there, Robinson sent in his seventh goal of the season with 1:39 remaining in double-overtime to help lift the Mustangs to the historic conference win. Jallow found Robinson for the golden goal, lifting his season assists total to 11 after earning two more Saturday night. The 11-assist campaign places Jallow in front of all competition in the conference, three ahead of Davenport's Dzenan Catic with eight.
Sophomore keeper Ryan Plonka (St. Clair Shores, Mich./Macomb CC) was able to make key saves, sending away four of the Golden Eagles five shots on target in 109 minutes of action.
HERE'S ANOTHER LOOK AT THE TOP MOMENTS CAUGHT ON VIDEO FROM 2014-15 AND HERE IS THE PROMO VIDEO FOR LAST YEAR'S HOME PLAYOFF GAME
MEN'S SOCCER CONTACT: Tim Johnston | [email protected] /* */ | @tjohnston56
MARYGROVE BROADCASTS: Mustang Sports Network | Twitter
MEN'S SOCCER:Â Twitter