Novi's McDowell Signs With Marygrove Women's Soccer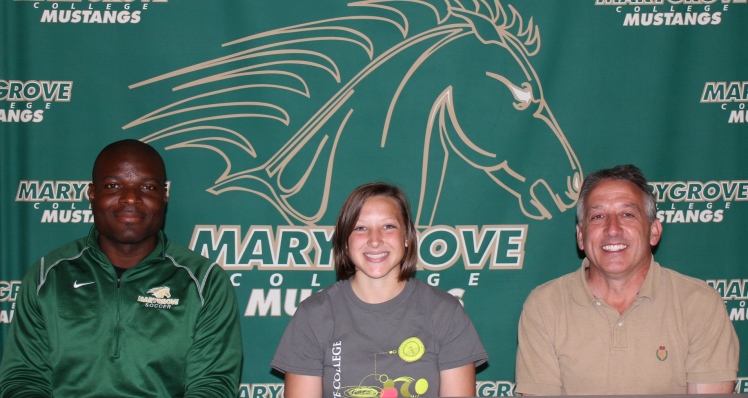 STAY CONNECTED: Facebook | Twitter | Instagram | YouTube
BE THE FIRST TO KNOW:Â Text & Email Alerts
DOWNLOAD OUR APPS:Â iOS (iPhone/iPad)Â |Â Android
2015 SCHEDULEÂ // PHOTO GALLERY
DETROIT — First-year women's soccer head coach Worteh Sampson announced the third official addition of the current class on Wednesday (July 8), signing Novi High School's Allison McDowell to a 2015-16 Letter of Intent with family at her side. McDowell is joined by Westland John Glenn's Raven Buck and Arbor Prep's Cayleigh Scott as official signees to the 2015 class.
Sampson, a breath of fresh air for the women's soccer program since his appointment in April, expects more signings on the horizon as the Mustangs continue to rebuild a program that once won a United States Collegiate Athletic Association National Championship (2009).
McDowell, a midfielder and outside defender, will begin her collegiate career with the northwest Detroit institution in August when the Mustangs begin preparations for the home opener on Aug. 22 against Purdue University-Calumet. Sampson is hopeful McDowell will have an immediate impact with the Mustangs after preparing for the collegiate level the last two years at Novi High School.
"Allie is exactly the type of player we need in our rebuilding phase," remarked the first-year head coach. "She's a utility player who will outwork anyone at any position. Her passion for the game and drive to improve every day will be a huge asset for us in practice from the beginning of camp this season. We're very excited Allie chose Marygrove and we look forward to coaching her over the next four years."
Aside from her high school experience, McDowell has spent time with Waza FC and the Michigan Jaguars, well-known clubs throughout the southeast Michigan region. McDowell is currently with the Jaguars after six years on the pitch with Waza.
The skilled player was named Most Improved by the Novi High School coaching staff at the end of her senior campaign.
STAY TUNED
McDowell and the Mustangs' home opener will be streamed live on the Mustang Sports Network beginning at 2:45 p.m. with Jeremy Otto, Brendan Johnson and Jimmy Stewart on the call. 
INTERVIEW
MARYGROVE ATHLETICS — TOP MOMENTS OF 2014-15