Volleyball Ends Phoenix Trip With Hard-Fought Losses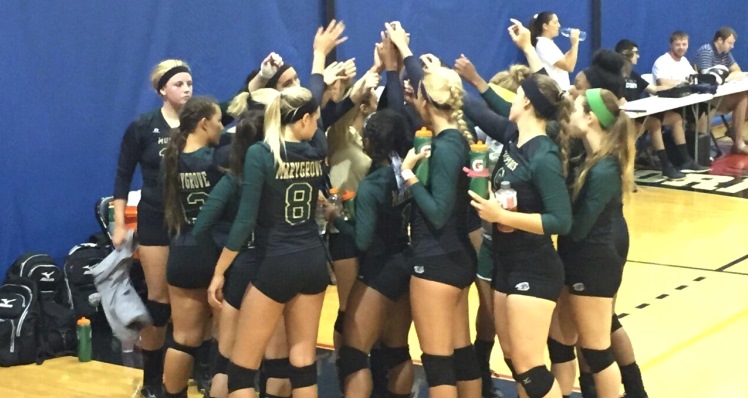 STAY CONNECTED: Facebook | Twitter | Instagram | YouTube
BE THE FIRST TO KNOW:Â Text & Email Alerts
DOWNLOAD OUR APPS:Â iOS (iPhone/iPad)Â |Â Android
**Official stats/stat files not available at the time of release**
PHOENIX — The first trip of the 2015 season concluded on Saturday (Aug. 22) with a pair of setbacks for the Marygrove volleyball program as Benedictine at Mesa and Embry-Riddle (Az.) topped the Mustangs in straight sets. The Mustangs (1-4) continued to improve despite losing both matches, dropping all six sets by a combined 19 points – or a mere three points per frame.
The Mustangs dropped the opening set of the day by a hard-fought 25-23 score to Benedictine at Mesa, a final tally that would tell the story for the rest of the Green and Gold's day in Phoenix. Benedictine at Mesa went on to win set two by an eight-point spread before squeaking out set three over the Mustangs, 25-23.
In the nightcap, the Mustangs once again battled to the bitter end, losing to Embry-Riddle in straight sets (25-27, 23-25, 22-25).
Ashley Murphy (Southfield, Mich./Clarenceville High School) and Rachel Staudt (Novi, Mich./Lawrence Tech) led the Mustangs with 15 kills each against Embry-Riddle, while Hailey Brandes (Southgate, Mich./Anderson High School) followed with nine of her own.
Amber Kelly (Mt. Morris, Mich./Mt. Morris High School) paced the Mustangs defense against Embry-Riddle with an impressive 15 digs. Junior transfer Erica Wilson (Warren, Mich./Macomb CC) chipped in with seven digs in the Phoenix finale.
Hayley Jury (Plymouth, Mich./Ladywood High School) checked in with a team-high 37 assists in the match against Embry-Riddle.
The Mustangs enter one of their biggest breaks of the season now that the Phoenix tournament is complete, not playing again until Sept. 2 when the Mustang Sports Network unveils its new and improved live video coverage beginning at 6:45 p.m.
WOMEN'S VOLLEYBALL CONTACT: Tim Johnston | [email protected]/* */ | @tjohnston56
MARYGROVE BROADCASTS:Â The Mustang Sports Network (MSN)Â |Â MSN Twitter
WOMEN'S VOLLEYBALL:Â Twitter