Volleyball Opens 2015 With Sweep, Earns Historic Victory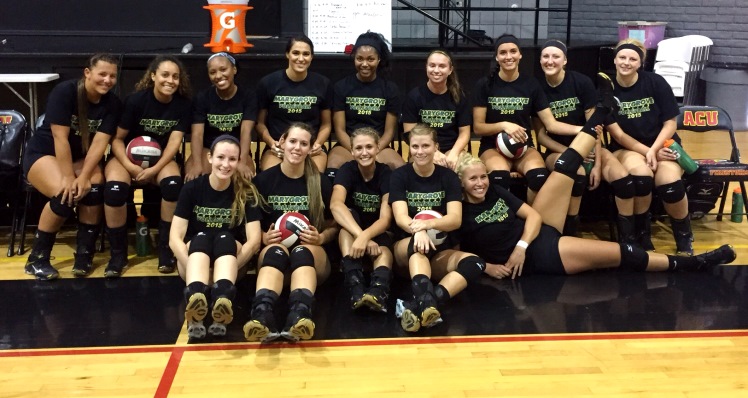 STAY CONNECTED: Facebook | Twitter | Instagram | YouTube
BE THE FIRST TO KNOW:Â Text & Email Alerts
DOWNLOAD OUR APPS:Â iOS (iPhone/iPad)Â |Â Android
**Official stats/stat files not available at the time of release**
PHOENIX, Az. — Marygrove volleyball started the 2015 season in style with a historic sweep over Providence Christian College (Calif.) on the opening night of the Arizona Christian Classic in Phoenix, Az. Thursday (Aug. 20), winning the match, 3-0 (25-13, 25-22 and 25-15). With the straight sets win, the 2015 Mustangs became the first team in program history to open a season with a sweep and only the third team in seven seasons to walk away victorious to open a campaign.
All three season-opening victories have come under head coach Jamie Baker's direction. Baker is now 3-1 in season openers since taking the helm of the Mustang volleyball program in 2012.
Providence Christian (0-2), a program in its first season of play, entered the Arizona Christian Classic with little experience after losing their opener to Vanguard (Calif.) earlier this week.
The Mustangs (1-0) raced out of the gates strong against the inexperienced Providence Sea Beggars, showing little signs of jet lag on their way to a 25-13 set one victory. The quick start spurned any concern about how the team would respond after traveling the farthest out of any of the participants in the three-day classic hosted by Arizona Christian University.
Or so Baker thought.
After the strong start, the Mustangs played an up-and-down second set before eventually taking the frame by a narrow 25-22 tally. The three-point victory gave the Mustangs a commanding two-sets-to-none lead and the team never looked back on its way to winning the third and final set, 25-15.
"I'm very happy with the effort in tonight's victory, we just need to clean a few things up before facing some of the tournament's other opponents," said Baker. "Tomorrow will bring about a huge change of pace when we face established teams like Faulkner and the host school, Arizona Christian. Our hats go off to Providence Christian, we are a new program as well and we know the highs and lows of building a young team. They made plenty of good plays, but our girls ultimately brought a bit more of experience to the table to help us get the victory."
Reigning kills leader Ashley Murphy (Southfield, Mich./Clarenceville High School) led a balanced Mustang attack with eight kills, while seniors Alixandria Pappas (St. Clair Shores, Mich./Lakeview High School) and Rachel Staudt (Novi, Mich./Lawrence Tech) followed with seven and five kills, respectively.
Hayley Jury (Plymouth, Mich./Ladywood  High School) quarterbacked the team at the setter position to the tune of a match-high 29 assists. Jury chipped in with a pair of service aces as well to round out a stellar season-opening performance.
Junior transfer Erica Wilson (Warren, Mich./Macomb CC) and sophomore Amber Kelly (Mt. Morris, Mich./Mt. Morris High School) tied for a team-high seven digs to help pace a well-balanced defensive effort for the Green and Gold.
Sophomore Paige Hughes (Belleville, Mich./Huron High School) was lauded by Baker after the match for her performance. Hughes entered the match in the third set and was sharp, slamming home three of seven attack attempts for kills.
The Mustangs will return to action at the Arizona Christian Classic on Friday (Aug. 21) for a pair of matches. Faulkner (Ala.) – a team the Mustangs fell to in four sets last season – and the host Firestorm of Arizona Christian await the Mustangs for 1 p.m. and 5 p.m. ET matches.
WOMEN'S VOLLEYBALL CONTACT: Tim Johnston | [email protected]/* */ | @tjohnston56
MARYGROVE BROADCASTS:Â The Mustang Sports Network (MSN)Â |Â MSN Twitter
WOMEN'S VOLLEYBALL:Â Twitter