Weekly Notes: Volleyball Hosts Senior Night Wednesday, at LTU Saturday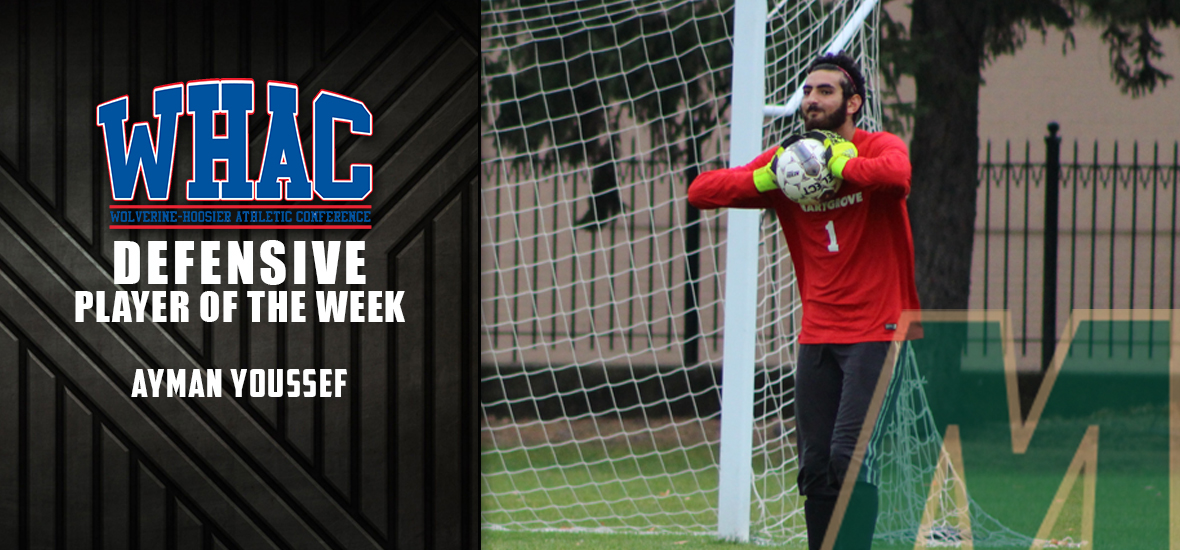 CLICK HERE FOR THE COMPLETE VERSION OF WEEK 11Â GAME NOTES (PDF)
WEDNESDAY, NOVEMBER 4
Marygrove (4-24, 2-17Â WHAC) vs. Lawrence Tech (9-26, 6-13 WHAC)
Time: 7Â p.m.
Location: Detroit Jesuit High School — Detroit, Mich.
Coverage:Â Live Video, Audio and Stats (coverage begins at 6:45 p.m.)
SATURDAY, NOVEMBER 7
Marygrove (4-24, 2-17Â WHAC) vs. No. 22 Madonna (28-5, 17-2 WHAC)
Time: 12Â p.m.
Location: Matched played at Lawrence Tech — Southfield, Mich.
Coverage: No coverage scheduled at the time of release
SATURDAY, NOVEMBER 7
Marygrove (4-24, 2-17Â WHAC) vs. Siena Heights (18-10, 10-9 WHAC)Â 
Time: 3Â p.m.
Location: Match played at Lawrence Tech — Southfield, Mich.
Coverage: No coverage scheduled at the time of release
BY THE NUMBERS
1:Â Senior middle hitter/blocker Alixandria Pappas has been one of the most impactful student-athletes to ever put on a Marygrove volleyball uniform. The senior and former Lakeview High School standout will go down as head coach Jamie Baker's first (1) four-year senior at season's end. Pappas was also the first signing for Baker with the Mustangs.
4: The Mustangs earned their fourth (4) win of the 2015 campaign after churning out a five-set victory over UNOH on Oct. 17. With the win, the Mustangs are now 4-1 when taking a two-sets-to-none lead this season. In addition to their 4-1 record when taking a 2-0 advantage, the Mustangs hold an even 5-5 record when earning a one-set-to-none edge this season.
22: Sticking with our senior theme in our "By The Numbers" series, middle hitter Rachel Staudt made history a few weeks back with a dominating performance against Northwestern Ohio at Lawrence Tech. Staudt, a former player at Lawrence Tech, made the most of the time at her old gym by slamming down a program-tying 22 kills in a single match. #Impressive
MUSTANG ROUNDUP
The Mustangs played a pair of five-set matches last week, coming up short opposite Concordia-Ann Arbor at home on Wednesday (Oct. 28) before allowing Aquinas to come back from a 2-0 deficit on Saturday (Oct. 31) in Grand Rapids. The setback against Aquinas marked the first loss of the season for the Mustangs after the Green and Gold took a 2-0 lead in a match.
SENIOR NIGHT IS WEDNESDAY
The Mustangs will host Senior Night 2015 on Nov. 4 against Lawrence Tech. Join us after the match for a special ceremony celebrating the careers of senior class members Alixandria Pappas and Rachel Staudt. Pappas is the lone four-year senior on the 2015 roster.
NOW THAT WAS A GOOD WIN!
The Mustangs pulled off arguably the best win in program history on Oct. 17 in a five-set thriller against Northwestern Ohio at Lawrence Tech. Rachel Staudt's 22 kills and .405 hitting percentage led the way for the Mustangs on the record-setting day.
THE PAPPAS FILE
Alixandria Pappas will leave a lasting impact once her days are done at Marygrove. The well-rounded student-athlete has won mutiple conference and national academic awards and has been a multiple-time captain, showcasing her ability as a leader on-and-off the court. 
DID YOU KNOW?
Both of the team's seniors were also standouts in other sports in high school! Pappas excelled at softball while Staudt was a force in track throw's events.
A LOOK AT LAWRENCE TECH
Led by head coach Larry Wyatt, the Lawrence Tech Blue Devils enter the week with a 9-26 record overall and a 6-13 mark in WHAC play. The Blue Devils earned a come-from-behind 3-1 victory in Southfield earlier this season over the Mustangs. Since then, the Blue Devils are 3-10 over their last 13 matches despite playing competitive every time they hit the floor.
 
A LOOK AT MADONNA
The NAIA's No. 22 team as of Monday (Nov. 2), Madonna nears the end of the season with an impressive 17-2 record in the WHAC and a 28-5 overall mark. Head coach Jerry Abraham, the winningest coach in NAIA history, is in his 29th season at the helm.
A LOOK AT SIENA HEIGHTS
First-year head coach Kim Berrington has made an immediate difference at Siena Heights, leading the Saints to an 18-10 record (10-9 WHAC) this season. Leze Vukaj leads the Saints attack with 317 kills through 28 matches.
AROUND MUSTANG ATHLETICS
Join us Saturday (Nov. 7) for a home WHAC playoff match when the Mustangs' men's soccer squad hosts Lourdes in a quarterfinal contest. First kick is at 2 p.m. with live video on the Mustang Sports Network (marygrovemustangs.com/live) beginning at 1:45 p.m.
THE MUSTANG SPORTS NETWORK
The Mustang Sports Network extends a special THANK YOU to the seniors for their hard work and to all who tuned in this season! 
STAY CONNECTED: Facebook | Twitter | Instagram | YouTube
BE THE FIRST TO KNOW:Â Text & Email Alerts
DOWNLOAD OUR APPS:Â iOS (iPhone/iPad)Â |Â Android
WOMEN'S VOLLEYBALL CONTACT: Tim Johnston | [email protected]/* */ | @tjohnston56
MARYGROVE BROADCASTS:Â The Mustang Sports Network (MSN)Â |Â MSN Twitter
WOMEN'S VOLLEYBALL:Â Twitter