Highly Touted Pietruszka Commits to Mustangs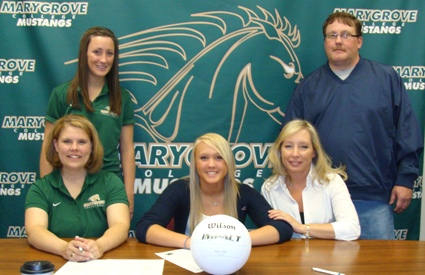 DETROIT, MI–Coach Graves made headlines again with the signing of another local standout. Garden City High's Shannon Pietruszka became the latest to join Mustang Volleyball on Thursday as she signed a letter of intent at her high school. The multi-sport standout leaves the Garden City Cougars this year with a long list of accomplishments.
Pietruszka, a 5'4″ libero, has enjoyed success on many levels during her high school career. Peitruszka cleaned house with honors such as All-Conference, All-District and All-Region over the course of a highly respected volleyball career. Her team would take the district crown in 2007 and win a Mega Red Conference title in 2008. She helped her team achieve those goals with a 96.4 serve receive percentage, while compiling 1,542 digs her junior and senior year. Exemplifying the true meaning of a student-athlete, Pietruszka was also named Academic All-Region.
Pietruszka excelled on the diamond as well. In 2008, Pietruszka and the Cougars reached the pinnacle of team success as they were crowned MHSAA Division I Softball Champions. During an equally impressive softball career, Pietruszka managed to compile awards ranging from All-District and All-Region (3 years) to All-State. She was also named the Cougars' Rookie of the Year in 2007.
Coach Graves on Pietruszka: We are very excited to add Shannon to the program. She is an extremely intelligent and competitive student-athlete that has a drive to be the best. We expect Shannon to make an immediate impact in the program from day one. Shannon will be looked upon as a team leader both on and off the court.