Men's Soccer Shuts Out Bethel, Wins Home Opener 2-0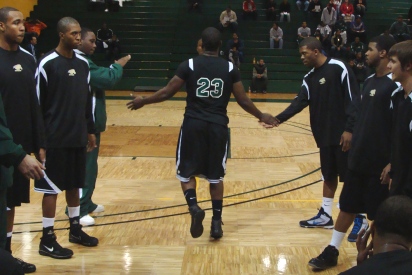 STAY CONNECTED: Facebook | Twitter | Instagram | YouTube
BE THE FIRST TO KNOW:Â Text & Email Alerts
DOWNLOAD OUR APPS:Â iOS (iPhone/iPad)Â |Â Android
DETROIT — Goals by Gbenga Ayanwale and Oneil Robinson and sound goalkeeping from Austin Valentine helped the Marygrove men's soccer team shut out the visiting Bethel College Pilots, 2-0, on Saturday (Aug. 22) in Detroit as the Mustangs opened up the home part of their 2015 slate in front of a friendly crowd.
The 2-0 victory marked the first home-opening shutout in program history as Valentine (Westland, Mich./Concordia-Ann Arbor) went on to record a clean sheet in his second game as a Mustang.
Bethel (Ind.) entered the game a confident group after topping Marygrove's WHAC counterpart Cornerstone by a 1-0 score earlier in the week. The Mustangs (1-1) also stepped onto the pitch Saturday full of confidence after taking NAIA No. 9 Lindsey Wilson to the brink, losing their season-opener 2-1 in overtime to the association powerhouse.
In a matchup of two strong teams, the Mustangs were able to strike first when all-time assists leader Abdoulie Jallow (Bansang, The Gambia/Rust College) played a ball forward to Ayanwale (Osun State, Nigeria/Atanda International) who chipped the keeper from 15-out. The goal put the Mustangs in front, 1-0, at the 39′ mark of the contest.
The goal was the second of the season and in as many games for Ayanwale, a redshirt freshman from Nigeria. The assist was Jallow's second of the season and his 23rd overall in a Green and Gold uniform.
In the second half, the Mustangs wasted little time attacking the net and eventually padded their lead when senior striker [Oneil] Robinson (pictured above) beat the Pilots keeper to the right side. Robinson's goal – his first of the season – gave the Mustangs a comfortable 2-0 lead and Valentine did the rest as the Green and Gold held on to earn the two-goal victory.
Valentine faced six Pilot shots, turning all of them away to lower his goals against average after two games to a sparse 0.97.
The Mustangs outshot the Pilots 13-12 overall and 9-6 on target in the home opener. The Pilots took the edge in corne
rs, 6-3, but could not get a goal past a Mustangs defense comprised mainly of Talal Hamodi (Dearborn Heights, Mich./Crestwood High Sch
ool), Ma Sambou Jatta (Brufut,
 The Gambia/Schoolcraft College), Jeff Okerstrom (Redford, Mich./Redford Union) and Andriy Pelekh (Lviv, Ukraine/Salem High School).
Rochester (Mich.) is next on the schedule for the Mustangs on Wednesday (Aug. 26) at 3 p.m. The game will be played on Ultimate Soccer Arenas in Pontiac, Mich. and will feature live stats on the Mustang Sports Network.
ON THE LIGHTER SIDE: Play was suspended with 18:23 remaining in the second half due to a sprinkler system malfunction on the Marygrove Soccer Field. Players enjoyed the brief downtime by cooling off in the sprinklers before they were shut off moments later (pictured, right).