Determined Women's Soccer Team Blanked By Cleary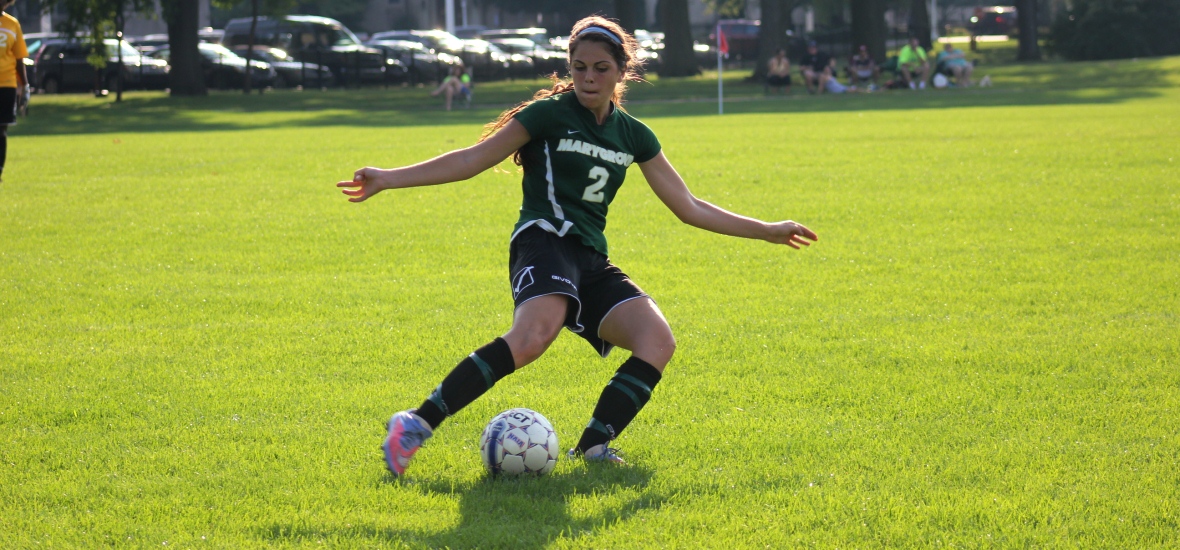 STAY CONNECTED: Facebook | Twitter | Instagram | YouTube
BE THE FIRST TO KNOW:Â Text & Email Alerts
DOWNLOAD OUR APPS:Â iOS (iPhone/iPad)Â |Â Android
DETROIT — The Marygrove women's soccer team was held without a goal for the first time this season on Sunday (Sept. 6) as the Cleary University Cougars blanked the Mustangs in Detroit, 3-0. The shutout lifted the visiting Cougars to their first win of 2015 and dropped the Mustangs to 0-3-0 on the young season.
The Mustangs had chances in the first half as Raven Buck (Westland, Mich./John Glenn High School) and Sara Ruch (Oxford, Mich./Oxford High School) targeted Allison McDowell early and often. McDowell (Novi, Mich./Novi High School) – a freshman fresh off a two-goal performance in Saturday's game – narrowly missed on two occasions in the opening half as the Mustangs looked to take their first lead of the 2015 campaign.
Instead, the Cougars countered with a 42nd-minute goal as Mustang keeper Henrietta Addo (Ghana, West Africa/Henry Ford CC) was beat on her right late in the half. The goal gave the visitors a 1-0 heading into the halftime break on a steamy Sunday afternoon in Detroit.
Second half action saw the Cougars take a commanding lead through 58 minutes – a lead that would eventually hold for a 3-0 final tally. The loss marked the second three-goal defeat in as many days for the upstart Mustangs under first-year head coach Worteh Sampson.
"I thought the girls played hard considering the conditions today," said Sampson in regards to his team's effort in the humid weather. "We fought hard all game and that is what is most important. The box score doesn't always tell you the story, something I feel is true for today's contest. No matter where you look on the box score you won't see how hard our girls played and how much heart the team displayed during our second half of a tough back-to-back. I'm proud of our effort, but we have to continue to work hard to improve this season. I look forward to getting back to work this week."
McDowell led the Mustangs with three shots (three on goal) in the non-conference setback. Through three games, McDowell has paced the Mustangs with two goals and an assist to jump out to a team-best five points and six shots on target.
Addo stopped 12 Cleary shots in the loss.
The Mustangs entered Sunday's game – the second half of a back-to-back – with only 11 players. The no-sub situation was grueling for the Mustangs as the muggy conditions forced the Green and Gold to compete a player-down intermittently throughout the game as players needed rest. Cleary countered with 14 players seeing balanced time in the non-conference match.
WOMEN'S SOCCER CONTACT: Tim Johnston | [email protected]/* */ | @tjohnston56
MARYGROVE BROADCASTS: Mustang Sports Network | Twitter
FOLLOW THE TEAM 24/7:Â Twitter