Women's Soccer Set to Play Two in Illinois This Weekend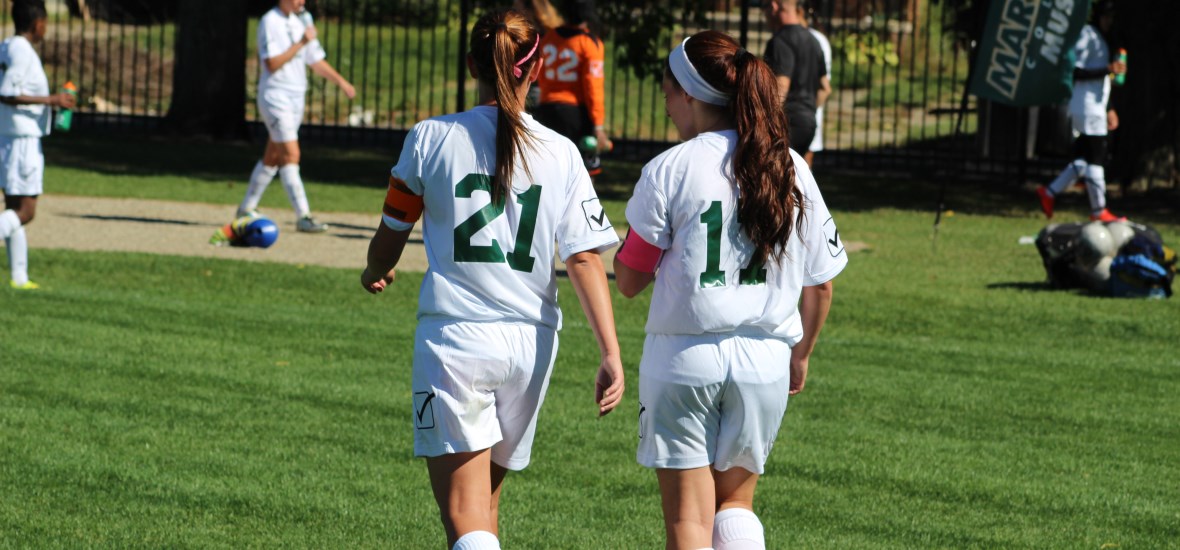 CLICK HERE FOR THE COMPLETE VERSION OF WEEK TWO'S GAME NOTES (PDF)
FRIDAY, SEPTEMBER 11
Marygrove (0-3, 0-0 WHAC) at Trinity Christian (3-1, 0-0 CCAC)
Time: 5Â p.m. EST
Location: Schaaf Athletic Complex – Palos Heights, Ill.
Coverage: Live Video | Live Stats (Trinity Christian Coverage)
SATURDAY, SEPTEMBER 12
Marygrove (0-3, 0-0 WHAC) at Saint Francis-Ill. (2-1, 0-0 CCAC)
Time: 5Â p.m. EST
Location: Joliet Memorial Stadium – Joliet, Ill.
Coverage:Â Live Video | Live Stats (Saint Francis Coverage)
BY THE NUMBERS
1:Â Did you know the Marygrove women's soccer program has won one (1) national title? In 2009, the Mustangs' women's soccer squad put together a remarkable campaign, going 10-4-2 overall on their way to win the United States Collegiate Athletic Association National Championship. The title run, improbably, would come in the program's inaugural season.
5: The Mustangs lost a substantial amount of experience due to graduation last season. In all, five (5) Mustangs were lost to graduation or expired eligibility, including the program's all-time leading scorer Cheyenne York. In four seasons, York amassed an impressive 24 goals and 11 assists in 76 games. York accounted for eight of the Mustangs 12 goals in 2014.
0: Zero (0) makes an appearance in our "By The Numbers" series despite it not being a number. Zero represented the amount of career starts/appearances in net for any of the goalkeepers entering the 2015 season. Henrietta Addo stands between the pipes for the Mustangs to begin the campaign until projected start Janeesa Jamierson returns from  an injury.
MUSTANG REWIND
First-year head coach Worteh Sampson and the Mustangs have fallen on hard times to begin the 2015 slate. With depth a constant issue early on, the Green and Gold have entered each of the first three games of 2015 with only 11 players. The Mustangs endured their first of two back-to-backs this season last weekend at home, losing to Bluffton on Saturday (Sept. 5) by a 5-2 final before dropping a 3-0 decision to Cleary on Sept. 6.
RUCH TURNS INTO ASSIST MACHINE
Senior defender Sara Ruch (Oxford, Mich./Oxford High School) found teammate Allison McDowell twice on Saturday (Sept. 5), earning the first multi-assist/multi-point game of her three-plus year career in a Green and Gold uniform. The two-assist game doubled Ruch's career assist total (two in 2013), giving the senior defender four assists and four total points for her career.
MCDOWELL NETS TWO GOALS
Now that's how you make a first impression! Freshman midfielder/forward Allison McDowell (Novi, Mich./Novi High School) made her presence known over the weekend by posting two goals against NCAA Division III opponent Bluffton (Ohio). The goals came late in the contest as McDowell tucked a pair of tallies past the Bluffton keeper thanks to assists from senior defender Sara Ruch. The goals were the first two of McDowell's career, coming in the freshman's second game at the collegiate level.
JAMIERSON CONTINUES TO HEAL
Former Marygrove women's basketball standout Janeesa Jamierson (Battle Creek, Mich./Kellogg Community College) entered the 2015 season as the projected starting keeper. After suffering an injury, Jamierson is now scheduled to return to action midway through the campaign.
DID YOU KNOW?
Head coach Worteh Sampson has Wolverine-Hoosier Athletic Conference (WHAC) playing experience as well. Sampson played two seasons at neighboring Madonna University.
A LOOK AT TRINITY CHRISTIAN
Owner of arguably the best mascot/nickname in NAIA sports, the Trinity Christian College Trolls (Ill.) have shot out to a 3-1 record on their way to outscoring opponents 7-3 on the season. The Trolls recorded shutouts in each of their first three games this season before falling to the Mustangs' WHAC counterpart Indiana Tech by a 3-1 tally. Jessica Bianchi leads the Trolls with eight points on three goals and a pair of assists.
A LOOK AT SAINT FRANCIS (ILL.)
The Saint Francis Fighting Saints welcome the Mustangs to Joliet, Ill. in the middle of a five-game homestand. The Fighting Saints have been idle since last Saturday when they defeated the Mustangs' WHAC foe Cornerstone (Mich.), 3-0, to move to 2-1-0 on the 2015 campaign. Kayla Paeth paces the Fighting Saints attack with three goals (six points) through three games.
SAMPSON CAN RECRUIT!
First-year head coach Worteh Sampson, a former longtime men's soccer assistant coach, was hired in April 2015 to take the helm of the Mustangs women's soccer program. With only two months to recruit while high school students were still in class, Sampson took advantage of the brief time period en route to signing a trio of stellar class of 2015 freshmen, including Raven Buck (Westland, Mich./John Glenn High School), Cayleigh Scott (Westland, Mich./Arbor Prep), and Novi's [Allison] McDowell.
AROUND MUSTANG ATHLETICS
The men's soccer team will host the lone home game of the week on Saturday (Sept. 12) when NAIA foe Saint Xavier (Ill.) visits the Motor City. The game will be streamed live on the Mustang Sports Network with Jeremy Otto and Brendan Johnson on the call beginning at 2:45 p.m. on marygrovemustangs.com/live.
THE MUSTANG SPORTS NETWORK (MSN)
The MSN is back for another year of live video on marygrovemustangs.com/live, this time with expanded coverage including multiple cameras and added talent!
STAY CONNECTED: Facebook | Twitter | Instagram | YouTube
BE THE FIRST TO KNOW:Â Text & Email Alerts
DOWNLOAD OUR APPS:Â iOS (iPhone/iPad)Â |Â Android
WOMEN'S SOCCER CONTACT: Tim Johnston | [email protected]/* */ | @tjohnston56
MARYGROVE BROADCASTS: Mustang Sports Network | Twitter
FOLLOW THE TEAM 24/7:Â Twitter