Errors Doom Marygrove Volleyball in Three-Set Loss to AQ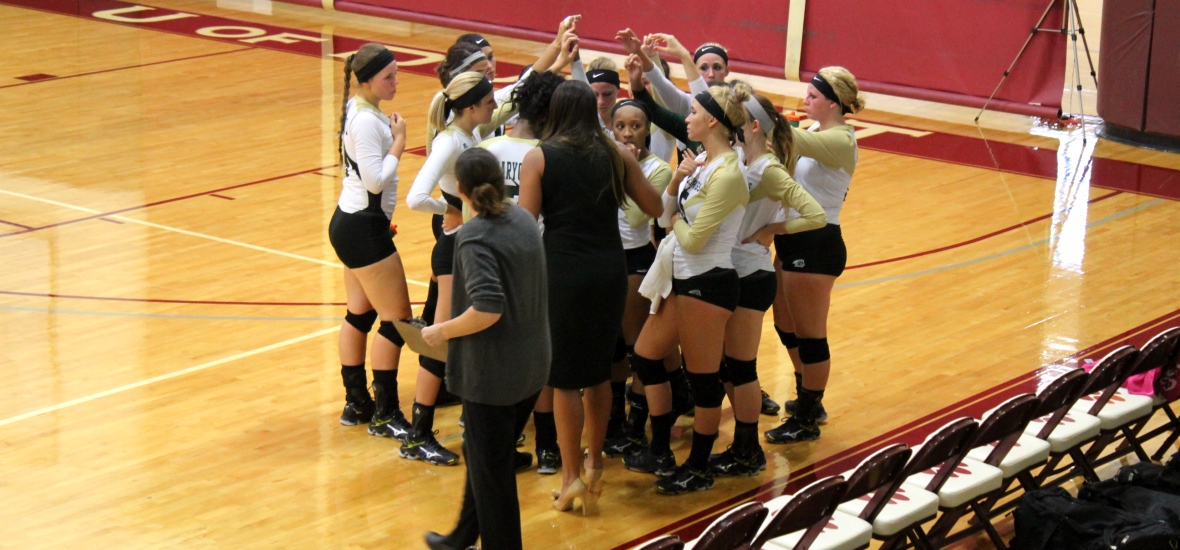 STAY CONNECTED: Facebook | Twitter | Instagram | YouTube
BE THE FIRST TO KNOW:Â Text & Email Alerts
DOWNLOAD OUR APPS:Â iOS (iPhone/iPad)Â |Â Android
GRAND RAPIDS, Mich. — Marygrove volleyball produced 31 kills on Saturday (Oct. 3) in Grand Rapids, Mich., but committed 23 errors as the host Aquinas College Saints took advantage of the Mustang miscues to pull away with a straight sets victory (25-10, 25-21 and 25-22). Â The Saints countered with 38 kills (12 errors) to win their sixth WHAC contest of the season.
The Mustangs fall to 2-17 overall and 0-11 in the conference after the setback while the Saints move to 10-6 on the season with a 6-5 record in WHAC play.
After shedding a slow start that resulted in a 25-10 set-one loss, the Mustangs made things interesting over the sets two and three despite ending the day on the wrong end of the WHAC showdown. The Mustangs forced a pair of ties late into the second set – one at 16-16 and the other four points later for each side, 20-20, before the Saints ended the second stanza on a 5-1 run to take a decisive 2-0 lead in the match.
Set three resulted in much of the same, this time with the Mustangs hold an 18-14 advantage late in the third frame when libero Erica Wilson (Warren, Mich./Macomb CC) helped pad the lead with a kill. The lead didn't hold long as the Saints raced back to steal the set and the match behind an 11-4 tear for a 25-22 final.
For the second straight match, senior captain Alixandria Pappas (St. Clair Shores, Mich./Lakeview High School) led the Mustangs in hitting percentage, boasting a .333 mark at the conclusion of Saturday's WHAC matinee. Pappas connected on seven kills in the loss while also posting a pair of block assists.
Junior transfer Brenna Donnelly (Yale, Mich./Mott CC) recorded a team-high eight kills to go along with one service ace and a block assist, while Ashley Murphy (Southfield, Mich./Clarenceville High School) and Rachel Staudt (Novi, Mich./Lawrence Tech) contributed with five kills each.
Hayley Jury (Plymouth, Mich./Ladywood High School) organized the offense by tallying 27 assists on the team's 31 kills while also checking in with 12 digs. Wilson worked her way to a team-best 14 digs while Murphy checked in with 13 of her own to post another well-rounded afternoon on the court.
The Mustangs continue their road swing with a Wednesday (Oct. 7) evening match at undefeated Lourdes University. The Lourdes Gray Wolves are coming off a three-set victory over NAIA No. 15 Madonna University on Saturday (Oct. 3) afternoon.
WOMEN'S VOLLEYBALL CONTACT: Tim Johnston | [email protected]/* */ | @tjohnston56
MARYGROVE BROADCASTS:Â The Mustang Sports Network (MSN)Â |Â MSN Twitter
WOMEN'S VOLLEYBALL:Â Twitter