No. 20 Lourdes Rolls, Tops Volleyball in Three Sets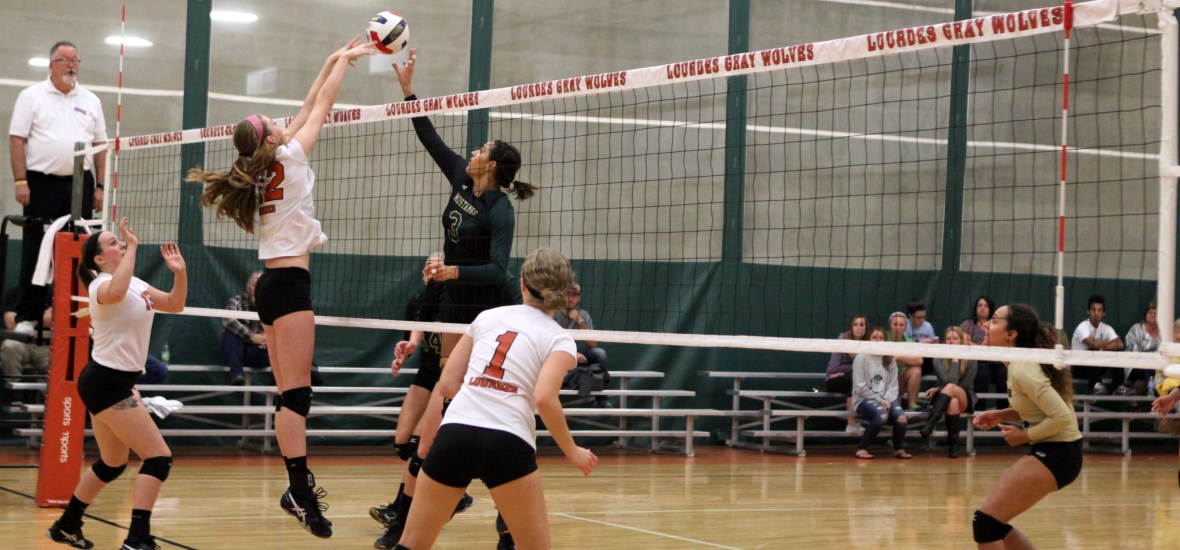 STAY CONNECTED: Facebook | Twitter | Instagram | YouTube
BE THE FIRST TO KNOW:Â Text & Email Alerts
DOWNLOAD OUR APPS:Â iOS (iPhone/iPad)Â |Â Android
SYLVANIA, Ohio — The No. 20 Lourdes University Gray Wolves continued their roll in 2015 with a straight sets victory over Marygrove volleyball on Wednesday (Oct. 7) inside the Tam-o-Shanter Center in Sylvania, Ohio. With the sweep, the Gray Wolves improve to a perfect 17-0 overall and 12-0 in the Wolverine-Hoosier Athletic Conference (WHAC). The Mustangs drop to 2-18 on the season with an 0-12 mark in WHAC action.
The Gray Wolves jumped out to a 25-13 set-one victory behind a 14-6 edge in kills. The 14-kill, 12-point opening set win for the Gray Wolves was a product of a .281 hitting percentage as the nation's 20th-ranked team held the Mustangs to just .083 in the first frame.
The Mustangs sputtered in set two behind a three-kill, 11 error stanza to help lift the Gray Wolves to a 25-9 win. The Gray Wolves had their lowest offensive output of the night with nine kills of their own (four errors), but the Mustangs could not take advantage behind a match-high 11 errors in the set.
Set three saw the Gray Wolves pull away behind a 15-kill, one-error performance for a .609 hitting percentage, closing out the match with a 25-10 score. The Mustangs countered with their best performance of the night as the Green and Gold slammed down six kills (two errors) for a .250 hitting percentage.
Rachel Staudt (Novi, Mich./Lawrence Tech) led the Mustangs with five kills while Brenna Donnelly (Yale, Mich./Mott CC) and Ashley Murphy (Southfield, Mich./Clarenceville High School) combined for seven kills. Alixandria Pappas (St. Clair Shores, Mich./Lakeview High School) was responsible for the Mustangs only two blocks of the evening.
The Mustangs' Erica Wilson (Warren, Mich./Macomb CC) paced the defense with nine digs.
Balance was key for the Gray Wolves as Stephanie Richards and Stephanie Ruffing accounted for 20 of the team's 38 kills. Michi Jimenez recorded a match-high 12 digs in the three-set conference contest.
The Mustangs travel to Rochester Adams High School for a Friday (Oct. 9) evening non-conference match opposite Rochester College. Live stats will be available on the Mustang Sports Network at marygrovemustangs.com/live.
WOMEN'S VOLLEYBALL CONTACT: Tim Johnston | [email protected]/* */ | @tjohnston56
MARYGROVE BROADCASTS:Â The Mustang Sports Network (MSN)Â |Â MSN Twitter
WOMEN'S VOLLEYBALL:Â Twitter