Talented Davis Joins 2010 Class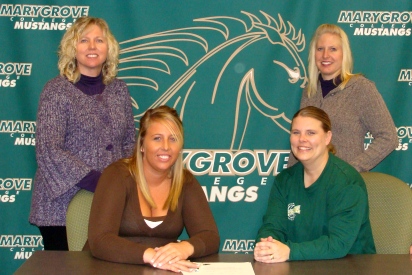 DETROIT, Mich.-Coach Graves signed NCAA D2 Glenville State transfer Lindsay Davis to her 2010 class on Monday afternoon. A 2005 high school graduate, Davis signs with Marygrove after a brief hiatus from the sport.
[Lindsay] Davis, a 6′ middle blocker, comes to the Mustangs after a brief stop as a Pioneer at West Virginia's Glenville State University. During the 2007 season, Davis helped her Glenville State team to its best record in three years. She was second on the team in attack percentage and fifth in kills per game.
Her successful playing days at Rockford High (Rockford, Mich.) was a catalyst for the West Virginia trip and now her signing as a Mustang. The signing places the Mustangs with five potential student-athletes over 6′ for 2010.
While at Rockford, Davis was named Team MVP, Ottawa-Kent Red Conference All-District, as well as having team-leading hitting and blocking percentages. The stellar play helped lead her team to regional finals her senior year.
Coach Graves on Davis: We are really excited to have signed Lindsay. She is a true middle blocker that brings plenty of experience and length to our growing program. That combination is exactly what our team needs to take it to the next level in 2010. I've known Lindsay's family for years and she comes from a good home where volleyball has always been important. Best of all, she knows how to win!