Robinson Adds to Impressive 2009 Class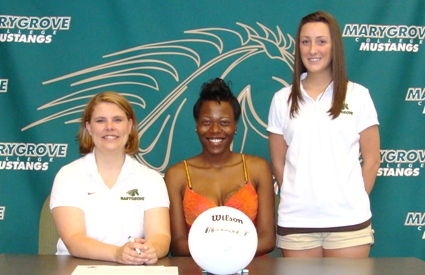 DETROIT, MI–Already, the month of May has brought many verbal commitments to Mustang Volleyball. Today, the Mustangs signed another promising student-athlete for the 2009-2010 season. Deanna Robinson joined the Mustang coaching staff to sign her letter of intent Thursday afternoon at Marygrove College.
Robinson comes to Marygrove via a different route than many of Coach Graves student-athletes. Robinson caught the coaching staff's attention for the first time at open tryouts. Although she hasn't had an extensive competitive volleyball career, Robinson is expected to contribute from day one. Standing at 5'11", Robinson is expected to add much needed depth to the front row.
Coach Graves on Robinson: We are very pleased to sign Deanna. Above all talent, Deanna's enthusiasm for the game is her greatest asset. I am looking forward to coaching Deanna because she is a very positive, driven student-athlete.