Women's Soccer Drops Weekend WHAC Tilt at Aquinas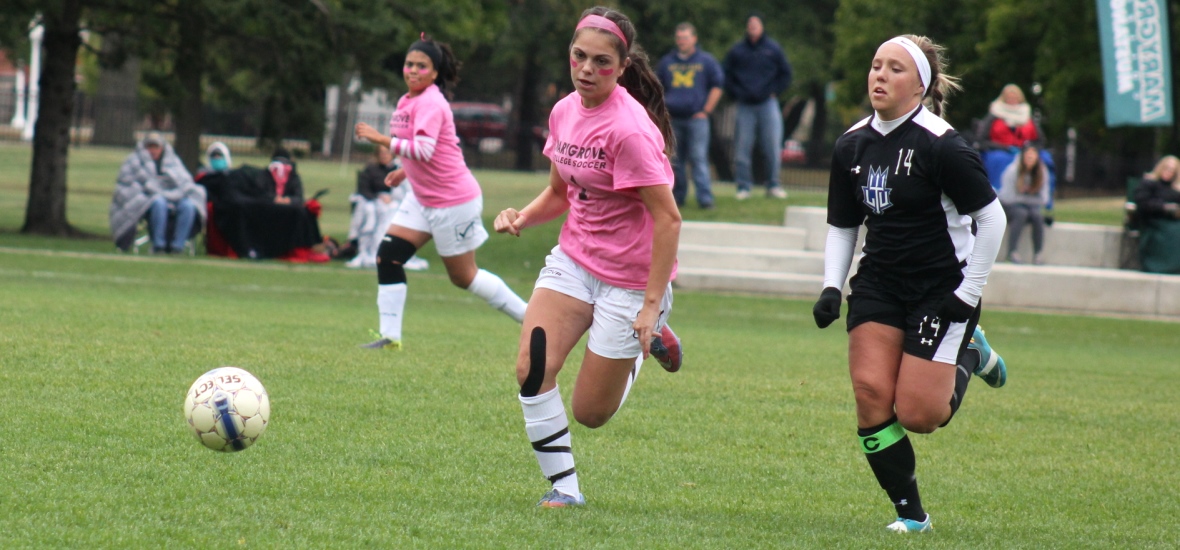 STAY CONNECTED: Facebook | Twitter | Instagram | YouTube
BE THE FIRST TO KNOW:Â Text & Email Alerts
DOWNLOAD OUR APPS:Â iOS (iPhone/iPad)Â |Â Android
GRAND RAPIDS, Mich. — The host Aquinas College Saints improved to 5-4-2 overall while pulling even at 2-2-1 in the WHAC with an 8-0 win over Marygrove women's soccer on Saturday (Oct. 10) in Grand Rapids. The Saints won their second match in a row – also the second of the week – after toppling Lawrence Tech, 2-1, in overtime on Wednesday (Oct. 7).
With the win, the Saints maintain a top-five position in the conference, a seed that would allow the squad a shot at hosting a home league playoff match in Grand Rapids at the end of the campaign.
The Mustangs fell to 0-7-0 overall and 0-3-0 in WHAC action after the Saturday afternoon setback on the state's west side.
Aquinas outshot the Mustangs 39-1 as Green and Gold goalkeeper Henrietta Addo (Ghana, West Africa/Henry Ford CC) was busy early and often. Addo saved 12 shots on the afternoon, but the Saints' attack proved to be too much after tucking in eight goals.
Farwa Haider (West Bloomfield, Mich./Wayne State University) accounted for the lone Mustang shot on the afternoon. The shot would be Haider's first in her three-year career with the Green and Gold.
Mariah Otolski led the Saints with three goals and an assist in Saturday's WHAC contest.
The Mustangs return to action Wednesday (Oct. 14) against NAIA No. 15 Siena Heights in Detroit. Opening kick is set for 4 p.m. with live stats available on the Mustang Sports Network at marygrovemustangs.com/live. 
WOMEN'S SOCCER CONTACT: Tim Johnston | [email protected]/* */ | @tjohnston56
MARYGROVE BROADCASTS: Mustang Sports Network | Twitter
FOLLOW THE TEAM 24/7:Â Twitter