Jallow Garners WHAC Offensive Player of the Week Honors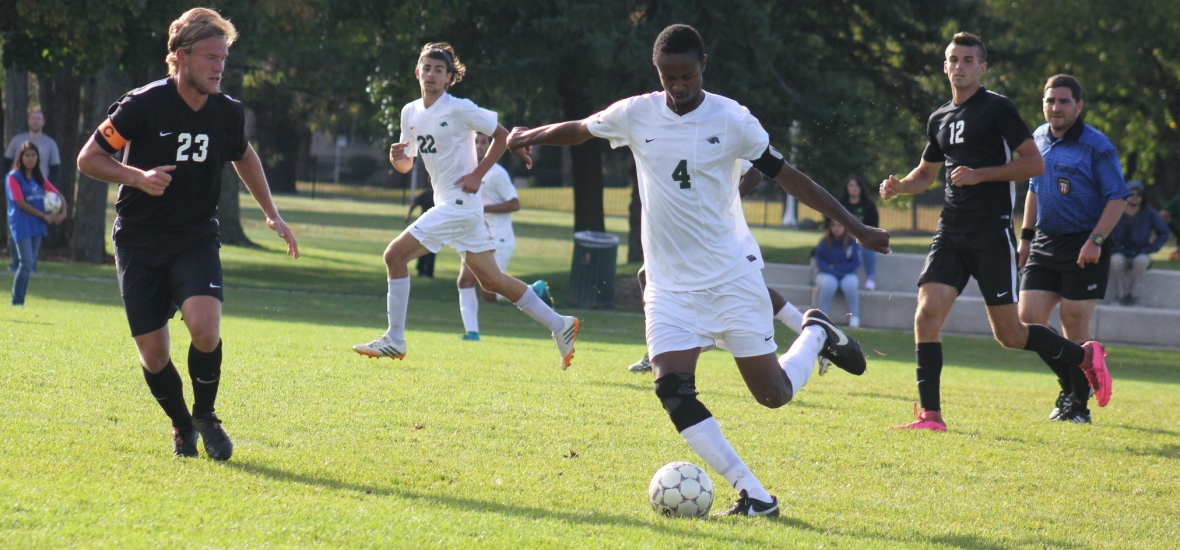 STAY CONNECTED: Facebook | Twitter | Instagram | YouTube
BE THE FIRST TO KNOW:Â Text & Email Alerts
DOWNLOAD OUR APPS:Â iOS (iPhone/iPad)Â |Â Android
DETROIT — Marygrove men's soccer senior forward Abdoulie Jallow was named the Wolverine-Hoosier Athletic Conference (WHAC) Offensive Player of the Week via release from the league office on Monday (Oct. 12). Now eligible for the same award at the national level, Jallow was chosen as the WHAC's top offensive player by the league's sports information directors after the senior forward compiled eight points on three goals and a pair of assists in two matches last week.
The weekly WHAC award is Jallow's second over the course of a three-plus year career in the league.
Jallow, a 6-4 consistent scoring presence from Bansang, The Gambia, extended his team-best mark to 19 points on the season after putting together a well-rounded week in limited minutes. On Wednesday (Oct. 7), Jallow played 35 minutes against Concordia-Ann Arbor, making the most of his time by tucking in two goals and assisting on another to help lead the Mustangs over the Cardinals, 7-0. Jallow opened the lid on the scoring barrage and was credited with the game-winning goal in the seven-goal victory.
Jallow's five-point match against the Cardinals earned Fredi the Pizza Man Player of the Game honors on the Mustang Sports Network.
On Saturday (Oct. 10), Jallow saw 70 minutes of action in a 3-1 Mustangs victory over new conference foe, Lourdes University. The senior forward sent home an all-important insurance goal in the 51st minute, cementing the Mustangs' 3-1 win over the visiting Gray Wolves. Jallow provided the assist on the game-winning goal, scored by Mario Morana, in the match's 38th minute.
Jallow has amassed 19 points off of seven goals – two game-winners – and five assists in 12 appearances this season. The senior is the program's all-time assists leader with 26 and is third all-time with 28 career goals.
HIGHLIGHTS FROM THE TWO-WIN WEEK
MEN'S SOCCER CONTACT: Tim Johnston | [email protected]/* */ | @tjohnston56
MARYGROVE BROADCASTS: Mustang Sports Network | Twitter
SOCIAL MEDIA:Â Men's Soccer on Twitter