McMillan Kicks Off Mustang Soccer Signings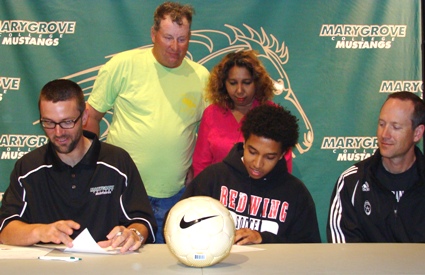 DETROIT, MI –Men's Soccer Head Coach Matt Johnson signed his first student-athlete in program history on Monday as Stefan McMillan committed to play for the Mustangs. The St. John's Redwing standout signed the letter of intent at his high school Monday afternoon.
McMillan, a 5'11" midfielder with three years of varsity experience, capped off a stellar career by winning the Grand Ledge Invitational and helping lead the team to the district finals his senior year. He was team captain of his U14 and U15 teams and a member of a competitive class team in Q.R.C. (Trinidad). McMillan's club team (Michigan Chill) was successful was well, making it to the Alliance Invitational Championship Game.
Due to an outstanding high school GPA, McMillan will come to Marygrove next fall as the recipient of a Presidential Scholarship. Presidential Scholarships are given to outstanding students who exemplify competence, compassion and commitment in the classroom.
"We are very excited to add Stefan to our program. He is a perfect example of the type of student-athlete we want in our upstart program. I expect Stefan to have a very successful career as a Mustang on and off the playing field," said Coach Johnson of McMillan.