Szukhent's Heroics Lift Mustangs Over Cardinals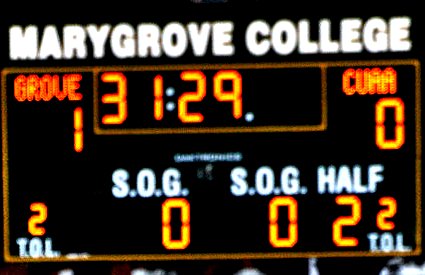 ANN ARBOR, Mich.-Heading into the game at 7-7, the up and coming Mustangs wanted to ensure their record stayed at or above the .500 mark. With each game becoming increasingly important, the Mustangs were focused on coming out strong to put the Cardinals away.
And they did just that.
A Jordan Berry (Dearborn, Mich./Crestwood) pass found a red-hot Ahmed Almosawi (Dearborn, Mich./American Muslim Academy) for the game's first goal. The net-finding strike came only 7:30 into the game. After the 1-0 edge, the Mustangs continued to pour on the shots for the majority of the first half. A few chances slipped just wide as the first half came to a close with the Mustangs up 1-nil.
Late in the second half, the Cardinals (3-9-1) mounted a strong attack that eventually tripped up the Mustangs. A Cardinal goal with only 10 minutes to play knotted the game up at 1-1 and appeared to be sending the game to overtime.
However, the Mustangs refused to play extra time as they made a beautiful run with just over six minutes to play. Sophomore midfielder Huss Seklawi (Dearborn, Mich./Fordson) slotted a perfect ball past Cardinal defenders to freshman Caleb Szukhent (Birch Run, Mich./Birch Run).
From there, Szukhent tucked the game-winning goal past the Cardinal keeper to give the Mustangs a 2-1 win.
Szukhent's heroics lifts the Mustangs second season record to 8-7 heading into Wednesday's rivalry match at Rochester College. Another win at Rochester could possibly give the 'Stangs an outside shot at a trip to the USCAA National Championship Tournament in early November.