Soccer Cruises Past Crusaders, 8-0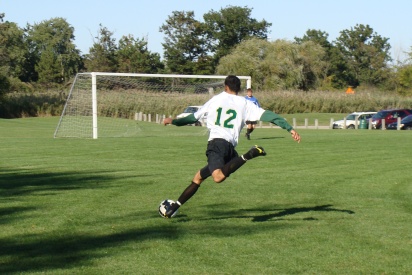 LANSING, Mich.-The Mustangs cruised in their 2010 opener to the tune of 8-0 over the host Crusaders of Great Lakes Christian College. The 8-nil tally was a sizeable improvement over last year's 2-1 and 4-1 victories over the Crusaders.
A retooled and re-energized squad, the 2010 version of Mustang men's soccer eased through their season opening match with a new swagger. The second-year team exhibited the superb talent it possessed last season, but added much-needed confidence to the mix with the fresh faces recruited for the 2010 campaign. The combination proved potent as the Mustangs steamrolled their instate foe on the pitch Saturday afternoon.
Leading scorers for the Mustangs were Jordan Berry (Crestwood/Dearborn, Mich.) and Jad El-Zein (Fordson/Dearborn, Mich.) with two goals each. They were followed by Ahmed Almosawi (American Muslim Academy/Dearborn, Mich.), Mamadou Diallo (Southwestern HS/Detroit, Mich.), Huss Seklawi (Fordson/Dearborn, Mich.) and Caleb Szukhent (Birch Run HS/Birch Run, Mich.) with one goal apiece on the day. Goalkeeper Alex Dubetz (Royal Oak HS/Royal Oak, Mich.) had four saves in the win.
GAME NOTES: Berry, last year's scoring leader, notched his 14th and 15th goal as a Mustang (7 total against Great Lakes Christian in three career games). Almosawi, Diallo and Szukhent's goals came in the first intercollegiate game of their career.