Beauregard Joins Strong Mustang Class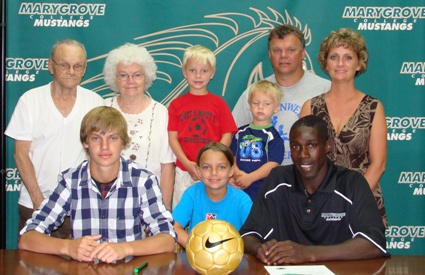 DETROIT, MI –Men's soccer added another promising student-athlete from Michigan's west side when they inked Ryan Beauregard from Plainwell Wednesday afternoon.
Beauregard joins club teammates Jordan Largent and Malcolm Brinker (also from Plainwell High) on the inaugural Mustang squad from the greater Kalamazoo area.
Beauregard, a 5'8″ midfielder, brings a wealth of championship soccer experience to the Marygrove campus. He recently helped lead Plainwell High School to a 2008-09 district championship and regional finals appearance. Playing competitive club soccer his entire life, Beauregard compiled the accolades by winning the U14 Westlake (OH) and U16 Novi Jaguar invitationals, while becoming a two-time champion (U15 & U17) at the Canton Cup.
More importantly, classroom success was a priority for Beauregard. The two-year National Honor Society member transitions to one of Michigan's premier private colleges touting an impressive 4.02 cumulative GPA. Years of dedication to the classroom paid off when Beauregard became the recipient of a Presidential Scholarship to attend Marygrove College earlier this year.
Coach Johnson on Beauregard: Ryan is a smart, hardworking young man that will bring a lot the team. Our staff is excited to work with another player who loves the game and will continue to improve. Ryan's success on and off the field make him another leader in our young program.