Weekly Notes: Volleyball Hosts UM-Dearborn Wednesday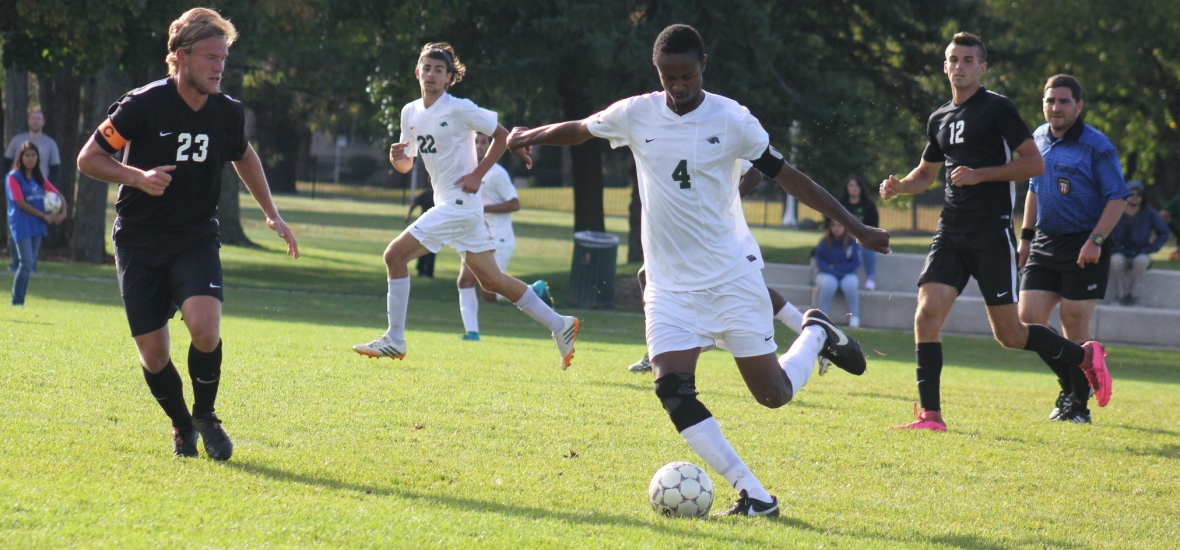 CLICK HERE FOR THE COMPLETE VERSION OF WEEK EIGHTÂ GAME NOTES (PDF)
WEDNESDAY, OCTOBER 14
Marygrove (2-19, 0-12Â WHAC) vs. Michigan-Dearborn (6-17, 1-11 WHAC)
Time: 7Â p.m.
Location: Detroit Jesuit High School — Detroit, Mich.
Coverage: Live Video, Audio and Stats (coverage begins at 6:45 p.m.)
SATURDAY, OCTOBER 17
Marygrove (2-19, 0-12 WHAC) vs. Cornerstone (16-6, 9-3 WHAC)
Time: 12Â p.m.
Location: Ridler Field House — Southfield, Mich.
Coverage: Live Stats
SATURDAY, OCTOBER 17
Marygrove (2-19, 0-12 WHAC) vs. Northwestern Ohio (8-16, 4-8 WHAC)
Time: 3Â p.m.
Location: Ridler Field House — Southfield, Mich.
Coverage: Live Stats
BY THE NUMBERS
18:Â Senior middle hitter/outside hitter Rachel Staudt (Novi, Mich./Lawrence Tech) was on fire Friday (Oct. 9) at Rochester. The senior posted a career-high 18 kills in the Mustangs' five-set marathon setback in Rochester, four kills shy of Mille Velez's program-record 22 set on Oct. 23, 2013 against Concordia-Ann Arbor. The 18-kill effort was the fourth-best in program history.
3:Â The Mustangs have battled tough all season long, forcing three (3) matches to five sets over the course of 21 contests. After forcing a deciding frame, the Mustangs have yet to pull out a fifth-set victory, going 0-for-2 against Rochester and 0-for-1 opposite Concordia-Ann Arbor when taking matches the full length this season.
985:Â 985 is the largest number to appear in our "By The Numbers" series this season and is the total that reflects the single-season record for assists at Marygrove held by former standout setter Nicole Kempinski. Current Mustang Hayley Jury (Plymouth, Mich./Ladywood High School) has put together a well-rounded season, posting 550 assists entering the week.
MUSTANG ROUNDUP
Fourth-year head coach Jamie Baker and the Mustangs ran into a buzzsaw in NAIA No. 20 Lourdes University on Wednesday (Oct. 7). The host Gray Wolves remained undefeated on the season with a three-set sweep of the Mustangs as the Green and Gold fell to 0-and-12 in conference play. On Friday (Oct. 9), the Green and Gold lost a heartbreaker to Rochester in five sets.
SENIOR NIGHT ANNOUNCEMENT
The Mustangs will host Senior Night 2015 on Nov. 4 against Lawrence Tech. Join us after the match for a special ceremony celebrating the careers of senior class members Alixandria Pappas and Rachel Staudt. Pappas is the lone four-year senior on the 2015 roster.
CROSSOVER NEWS
Don't forget! The Mustangs will be the hosts of this week's (Oct. 17) WHAC Crossover at Lawrence Tech. The Mustangs will face off against Cornerstone at 12 p.m. and UNOH at 3 p.m. from Lawrence Tech.
STAUDT STEPS IN
Junior defensive specialist Amber Staudt (Novi, Mich./Schoolcraft College) stepped in at setter – much like last year – and filled the role nicely in Friday's (Oct. 9) setback at Rochester. Staudt posted a season-high 16 assists while teammate [Hayley] Jury had 23.
DID YOU KNOW?
The Mustangs are 3-6 all-time against UM-Dearborn. Since joining the WHAC in 2012, the Mustangs have won three of the five meetings between the teams.
A LOOK AT MICHIGAN-DEARBORN
Second-year head coach Eric Stark and the Michigan-Dearborn Wolverines topped the Mustangs in four sets, 3-1, earlier this season in Dearborn behind a match-high 12 kills from Shayla Smalls. Brittany Bejma quarterbacked the Wolverines' attack with a match-best 39 assists while Megan Wright anchored the back line with 20 digs for the Maize and Blue in victory.
 
CROSSOVER OPPONENTS
The Mustangs will face off against Cornerstone and Northwestern Ohio this weekend at Lawrence Tech. Cornerstone enters the week led by Chelsea Lake's 240 kills while Northwestern Ohio's Nora Fa'atiga paces the Racers with 178 kills of her own.
WE MISSED YOU!
The Mustangs volleyball team finally returns home to UD-Jesuit High School on Wednesday (Oct.14) to host UM-Dearborn at 7 p.m. with live video available on the Mustang Sports Network at marygrovemustangs.com/live.
AROUND MUSTANG ATHLETICS
The men's soccer team has been on a roll as of late, posting a 7-0 victory over Concordia-Ann Arbor on Wednesday (Oct. 7) and a 3-1 win over Lourdes on Saturday (Oct. 10). The pair of lopsided wins led to WHAC Offensive Player of the Week honors for Abdoulie Jallow.
THE MUSTANG SPORTS NETWORK
Watch all home games via live video on marygrovemustangs.com/live – your home for in-game coverage with Jeremy Otto and Brendan Johnson on the call.
STAY CONNECTED: Facebook | Twitter | Instagram | YouTube
BE THE FIRST TO KNOW:Â Text & Email Alerts
DOWNLOAD OUR APPS:Â iOS (iPhone/iPad)Â |Â Android
WOMEN'S VOLLEYBALL CONTACT: Tim Johnston | [email protected]/* */ | @tjohnston56
MARYGROVE BROADCASTS:Â The Mustang Sports Network (MSN)Â |Â MSN Twitter
WOMEN'S VOLLEYBALL:Â Twitter