Aquinas Comes Back, Spoils Early Lead on Halloween for Women's Volleyball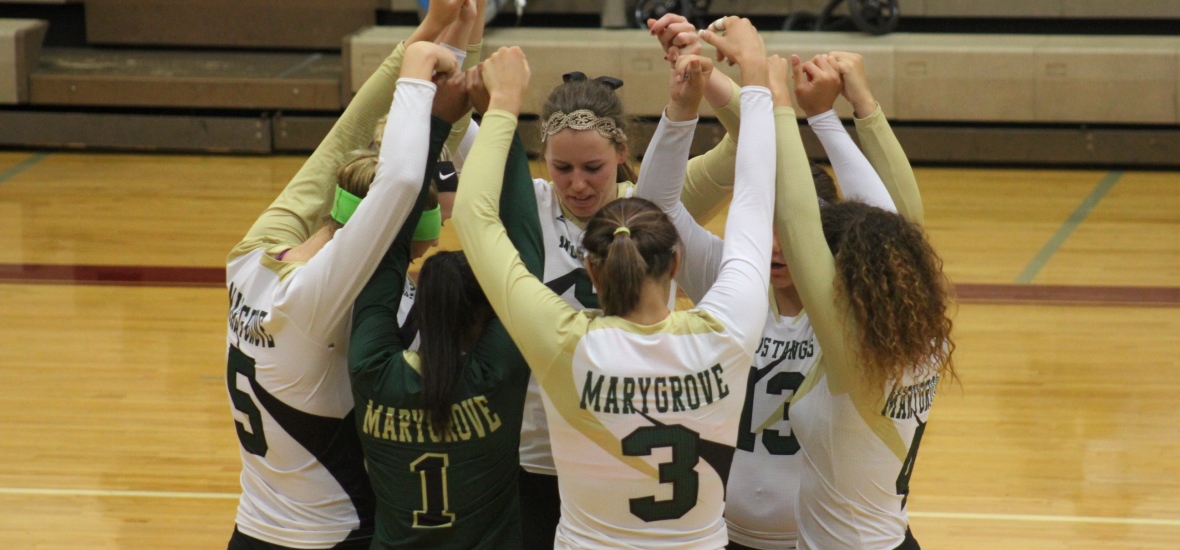 STAY CONNECTED: Facebook | Twitter | Instagram | YouTube
BE THE FIRST TO KNOW:Â Text & Email Alerts
DOWNLOAD OUR APPS:Â iOS (iPhone/iPad)Â |Â Android
GRAND RAPIDS, Mich. — Marygrove volleyball fell to 4-24 overall and 2-17 in Wolverine-Hoosier Athletic Conference (WHAC) play after suffering a pair of defeats on Halloween in Grand Rapids, Mich. The two-match day marked another WHAC Crossover for the Mustangs – the team's second-to-last conference cluster of the 2015 campaign – as the Davenport Panthers earned a sweep while the host Aquinas College Saints shocked the Green and Gold with a stunning comeback.
After being swept to begin the day by the Panthers, the Mustangs focused in to battle Aquinas tough in the crossover finale at 3 p.m.
Third-year head coach Jamie Baker and the Mustangs put themselves in a position to win, taking the first two sets from the Saints by equal 25-23 tallies. Up two-sets-to-none and seeking the program's first win over Aquinas, the Mustangs faded as the Saints marched through set three, 25-12.
A missed chance in set four – a 25-22 loss – sent the match to a deciding fifth frame where the Mustangs would be outdone by the Saints, 15-3.
The Mustangs won the battle but not the war in the Aquinas match as the Green and Gold took home the advantage in assists, digs and kills. Despite the edge in three important categories, the Mustangs allowed the Saints to sneak in 10 aces (three for Marygrove) while the hosts committed eight fewer attack errors (26-18) to make up the difference in the match.
Balance was key for the Mustangs in the five-set match against the Saints as Rachel Staudt (Novi, Mich./Lawrence Tech) paced a group of three in double-digit kills with 14 ahead of Hailey Brandes (Southgate, Mich./Anderson High School) and Brenna Donnelly (Yale, Mich./Mott CC) followed with 13 and 12 kills, respectively.
Amber Kelly (Mt. Morris, Mich./Mt. Morris High School) led the Mustangs in the match opposite the Saints with 39 digs while Amber Staudt (Novi, Mich./Schoolcraft CC) tossed up a team-best 31 assists.
The Mustangs return home to host Senior Night 2015 on Wednesday (Nov. 4) when Lawrence Tech visits Detroit-Jesuit High School for a 7 p.m. WHAC match. The Senior Night ceremony, celebrating the four-year career of captain Alixandria Pappas (St. Clair Shores, Mich./Lakeview High School) and one-year career of Rachel Staudt, will be held immediately following the match.
WOMEN'S VOLLEYBALL CONTACT: Tim Johnston | [email protected]/* */ | @tjohnston56
MARYGROVE BROADCASTS:Â The Mustang Sports Network (MSN)Â |Â MSN Twitter
WOMEN'S VOLLEYBALL:Â Twitter