Turnovers Costly as Women's Baskteball Suffers First Loss of the Season at Spring Arbor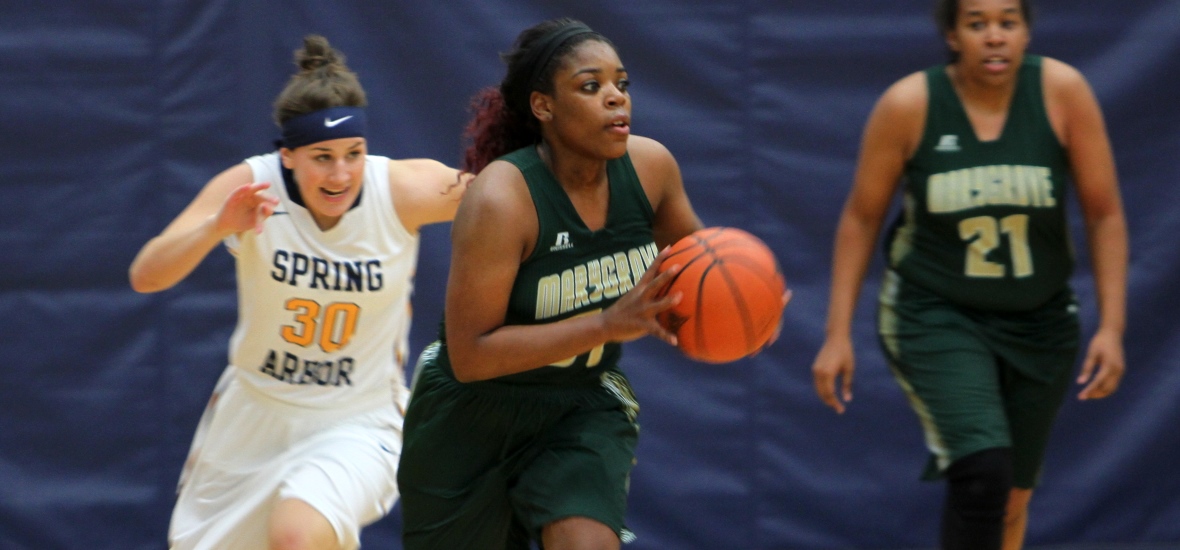 STAY CONNECTED: Facebook | Twitter | Instagram | YouTube
BE THE FIRST TO KNOW:Â Text & Email Alerts
DOWNLOAD OUR APPS:Â iOS (iPhone/iPad)Â |Â Android
*Official stats not available at the time of release*
SPRING ARBOR, Mich. — Marygrove women's basketball suffered its first setback of the 2015-16 campaign on Monday (Nov. 9) as Spring Arbor pulled away to win at home by a 74-40 final score. The 34-point loss was a product of a difficult shooting night and 19 turnovers as the Mustangs' undefeated streak to begin the season came to a close. The Cougars took advantage of the Mustangs' off night, taking home a 20-5 points off turnovers edge and a 36-14 points in the paint advantage in the non-conference contest.
The Cougars moved to 2-0 on the season in the efficient win while the Mustangs dropped to 3-1 two days ahead of the team's WHAC opener against No. 2Â Davenport.
After trailing 10-2 midway through the first quarter, the Mustangs responded with an 8-0 run to pull even with 3:17 remaining in the opening stanza. The teams played a tightly-contested final 3:17 in the opening quarter with the Cougars taking a 15-12 edge after the game's first 10 minutes of action.
The Cougars defense would lock in from there, allowing only eight Mustang points in the second quarter to take a 31-20 lead into the halftime break. Nine of the Mustangs' 11-point halftime deficit came from a 13-4 Cougar advantage in points off turnovers in the first half.
Elisha Major (Flushing, Mich./Flushing High School) recorded a team-high seven points at the half, followed by Taylor Kelley with five points of her own.
Cougar defense continued its pressure in the second half as the hosts pulled away by outscoring the Mustangs in the third quarter, 24-12, and again in the fourth, 19-8, to win by the 34-point margin. The Cougars improved on their 11-point halftime edge gradually throughout the contest as depth and defense ruled the final 20 minutes.
The Mustangs shot a season-low 22-percent from the field (13-of-59) while the Cougars checked in with a 35-percent effort (29-of-83). The Cougars attempted 24 more shots than the Mustangs, a product of the Green and Gold's turnovers and a 66-39 advantage on the boards for the home team.
Major led the Mustangs with 15 points, unlucky from the floor one game after pouring in a near program-record 39 points at Great Lakes Christian. Junior forward Breanna Thomas (San Antonio, Texas/Gillette CC) followed with 10 points and nine rebounds, while Shavarra Patton (Detroit, Mich./Northwestern High School) pulled down a team-best 11 boards.
Junior center Theresa Dray (Davison, Mich./Davison High School) fought off early foul trouble to post seven rebounds and three points. [Taylor] Kelley finished with an opposite line of seven points and three rebounds for the Mustangs in defeat.
Rachel Nelson paced a balanced Cougars effort on the offensive end with 12 points on 5-of-12 shooting.
WOMEN'S BASKETBALL CONTACT: Tim Johnston | [email protected]/* */ | @tjohnston56
MARYGROVE BROADCASTS:Â The Mustang Sports Network (MSN)Â |Â MSN Twitter
WOMEN'S BASKETBALL:Â Twitter