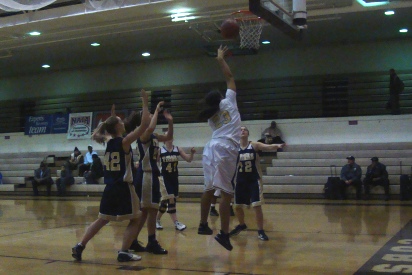 WINDSOR, Ont.-The 2010-11 campaign kicked off with international flare as the Mustangs traveled across the Ambassador Bridge for a Halloween weekend Can-Am Tournament at St. Clair College of Windsor.
The two-day tourney opened up with the Mustangs squaring off against Canadian powerhouse, Sheridan College. The Mustangs battled tough behind 20 points from sophomore sensation Keara Marks (Detroit, Mich./Renaissance) but fell one possession shy of a victory, 65-63.
The Mustangs did not find themselves on the short end on the second day of the tournament. In fact, the team from Detroit toppled the host Saints of St. Clair College 74-65. The nine-point victory would even the Mustangs record at 1-1 on the weekend and year.
With the even record, the Mustangs were crowned American Champions from the 2010-11 Can-Am Tournament. Congratulations Mustangs!!