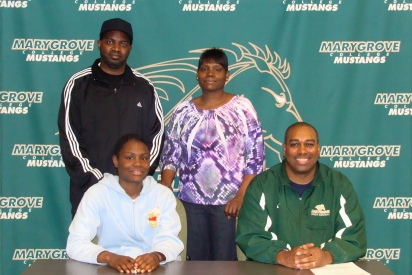 DETROIT, Mich.-The Mustangs signed another "Flintstone" when Beecher High School's Ashley Roberts inked her 2010-11 Letter of Intent. Next year's squad will hold more players from the Flint area than ever before.
Roberts, a 5'6″ speedy combo guard, is a lockdown defender that will bring added toughness to the Mustangs in 2010. The two-year varsity standout earned team defensive player of the year honors in her junior season. Known as a speedster, Roberts changed the gameplan of many opposing coaches due to her rare motor. Around Flint, she is known to have the unique ability to get steals from behind and frustrate the opposition.
Coach Hitchcock on Roberts: Ashley adds another dimension to our team in 2010. Her speed and willingness to play defense fits right into our scheme. Ashley's ability to play on-the-ball defense will be a welcome addition to our squad next season.