Smith signs Letter of Intent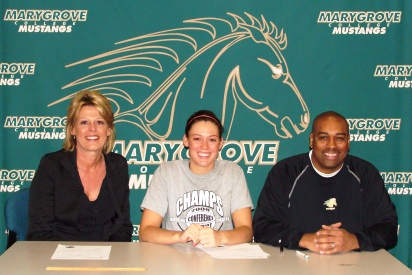 DETROIT, Mich.-The Mustangs held their own version of "Signing Day" last weekend in Canton, Michigan. The event brought seven players to the Mustangs for 2010. Napoleon High School standout Andrea Smith was the first to ink a letter of intent on the day.
Overall, five players matriculated from high school, while the other two came the Mustangs way via community college.
Smith, a 5'9″ forward, comes to Marygrove as a three-sport athlete for the Pirates of Napoleon High. The small suburb of Jackson boasts excellent athletics and Smith is a fine example of that. The former volleyball standout (Volleyball Awards: MVP, All-Region, All-Area, All-Cascades Conference) didn't try her hand in varsity basketball until her senior year. During the one year abbreviated tenure, Smith managed earn All-Conference and honorable mention honors in the recent 2009-10 season.
Coach Hitchcock on Smith: We are pleased to welcome Andrea into the Mustang family. She is a young lady with a great work ethic. Her athleticism, combined with a winning mentality, will be a great asset for us next season. I look forward to coaching her this fall.