Muskegon CC transfer Goliday signs with Mustangs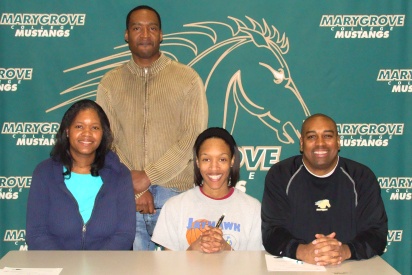 DETROIT, Mich.-The Mustangs signed their second community college player of the day as Jasmine Goliday put the pen to paper for her 2010-11 letter of intent. Goliday joins fellow Muskegon Community College transfer, Santrea Bush, on the Mustangs' roster.
Goliday, a 6'1″ athletic center, helped lead a hungry [Muskegon] Jayhawks team to an Alpena Community College Holiday Tournament Championship. Her efforts resulted in Holiday Tournament MVP honors for the hardworking center.
Before the college success was a stellar high school career. In 2007, Goliday was named Most Improved Player at Muskegon High School. Her winning approach also landed "Best Attitude" honors on the hardwood. As a two-sport student-athlete, Goliday was named All-Area Honorable Mention in track during the 2007 season.
Coach Hitchcock on Goliday: Jasmine will be a welcome presence next year for us. Her size (6'1″) and heart are a winning combination. Her attitude towards the game makes her the type of player that will help us in all aspects of the game both on and off the court.