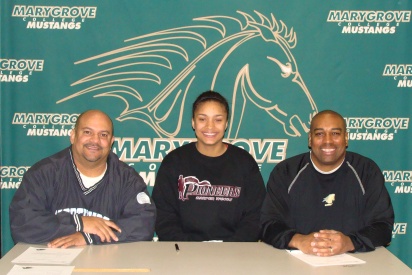 DETROIT, Mich.-Signing number five secured the only local talent of the day for the Mustangs. Harper Woods High School star, Taeler Curtin, inked her letter of intent Saturday to join the Mustangs next season.
Curtin, a 5'9″ versatile forward, played three sports during her days as a Pioneer at Harper Woods High. The well-rounded athlete excelled in basketball, volleyball, and track & field over the course of a four-year high school career. Curtin was a member of the Pioneers varsity basketball team for three seasons.
As part of an illustrious career, Curtin earned the Defensive Player of the Year award for the Pioneers during her junior season. Her efforts frustrated the opposition to help the Pioneers take home a 2008-09 District Championship. Above all else, Curtin lists the championship as her most memorable sports moment.
Coach Hitchcock on Curtin: Taeler is a tough kid with a great desire for the game. She plays the game with a tenacity that opponents find hard to match. I expect great things for Taeler over the next four years as a Mustang.