Mustangs Late Push Pays Off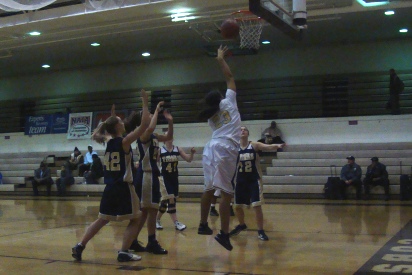 OBERLIN, Ohio-The Mustangs made the familiar trek to Ohio for another match-up against an Ohio college power. The Yeos of Oberlin College awaited the Lady Mustangs on Saturday in a battle of two reeling teams as of late.
The Yeos (NCAA D3) beat the Mustangs out of the gate for an early 11-point first half advantage. Keara Marks (Detroit, Mich.) helped the Mustangs cut the lead back to single digits before halftime with 12 points in stanza number one. Despite a strong rally, the Yeos were still able to cruise to a comfortable 36-29 halftime lead.
Twenty minutes were left after the break and the Mustangs were able to take full advantage of Yeo mistakes in the second half. The deficit continued to decrease as the Mustangs attacked the basket forcing the Yeos into a foul or an easy Mustang layup. On the other end, the Yeos were unable to sink shots from the charity stripe and allowed the Mustangs to bring the Yeo lead to one possession.
Marks led the rally once again as she laid in two of her 20 points on the afternoon to bring the Mustangs to within one. A Marks steal on the ensuing possession would lead to Jacquis Bullock split at the free throw line to tie the game (49-49) with 5:13 left in the game.
Marks would strike again a little more than thirty seconds later with a layup that gave the Mustangs their first lead of the contest (51-49) with 4:38 remaining. The Mustangs closed out the Yeos with a late push that led to an impressive 60-53 come-from-behind victory for the Mustangs. A 19-6 run over the last 9:00 would seal the Yeo's fate on the afternoon.
Jacquis Bullock (Detroit, Mich.) and Ebony Jackson (Ferndale, Mich.) followed Marks (20 points) in double-figures with 12 and 11 points respectively. Nastashia Young (Detroit, Mich.) saw her first action of the season and chipped in two points in 10 minutes.
The Mustangs look to climb back to .500 Wednesday at Andrews University. The Cardinals were previously beaten by the Mustangs, 89-46, on November 4, 2009. Tip-off is 6pm with the men following at 8pm in Berrien Springs.