Slow Start Hinders Men's Basketball On the Road as Michigan-Dearborn Wins, 101-88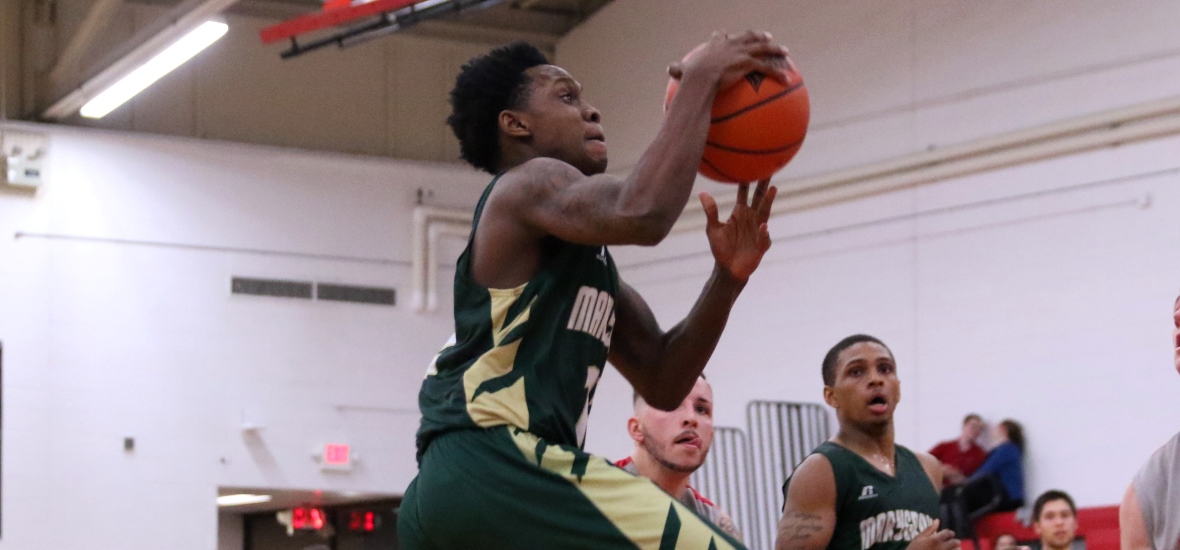 STAY CONNECTED: Facebook | Twitter | Instagram | YouTube
BE THE FIRST TO KNOW:Â Text & Email Alerts
DOWNLOAD OUR APPS:Â iOS (iPhone/iPad)Â |Â Android
DEARBORN, Mich. –  Marygrove men's basketball hit the hardwood for the second time in as many days on Monday (Nov. 16), visiting Michigan-Dearborn 24 hours after topping Madonna as part of an ambitious schedule to begin the season. Tired legs and a slow start made up the difference in Dearborn on Monday as the host Wolverines used an early 14-3 run to cruise to a 101-88 win in WHAC action over the Mustangs.
The Wolverines move to 1-0 in WHAC play and 4-2 overall, while the Mustangs drop to 1-5 overall and 1-2 in league action in the high-scoring affair.
By week's end, the Mustangs will have played eight games in 14 days – one of the more tiresome early-season slates in the NAIA.
After moving ahead 2-0 on the first possession, the Mustangs fell behind quickly as the Wolverines shot their way to a 14-3 run to take a 14-5 lead four-plus minutes into the contest. The early run was the beginning of a 52-point first half as the Wolverines went into the halftime break up 13 over the Mustangs, 52-39.
The Mustangs received 10 points out of Ta'Kein Dixson (Atlanta, Ga./Loganville High School) and Kenneth Miller (Flint, Mich./Grand Blanc High School) in the first half, but the effort was not enough to keep pace with the Wolverines' hot start as the hosts shot a blistering 51-percent in the opening half. The Mustangs countered with a 41-percent effort of their own to remain within striking distance at the break.
Dixson and the Mustangs were able to chip into the deficit in the second half, cutting the Wolverines advantage to eight points before the hosts pulled away to win by 13 points, 101-88. The Mustangs could not slow down the Wolverines as both teams tallied 49 second-half points – proof that strong start for the Wolverines was the difference in the ball game.
Dixson led the Mustangs with a career-high 24 points on 8-of-13 shooting and a 6-of-10 clip from three-point land. Elijah Ingram (Detroit, Mich./Consortium High School) tallied 14 points to follow his career day from 24 hours earlier at Madonna, while Miller and Diante Taylor (Battle Creek, Mich./Central High School) dropped in 12 and nine points, respectively.
Off the bench, Isaac Gillum (Milwaukee, Wis./Holy Redeemer High School) poured in 15 points on 6-of-11 shooting with Tyler Sykes (Sterling Heights, Mich./Stevenson High School) following with 12 points of his own.
Marcus Williams led all scorers with 31 points for the Wolverines.
The Mustangs visit Indiana Tech for a Wednesday (Nov. 18) evening showdown at 8 p.m. in Fort Wayne, Ind.
MEN'S BASKETBALL CONTACT: Tim Johnston | [email protected]/* */ | @tjohnston56
MARYGROVE BROADCASTS:Â The Mustang Sports Network (MSN)Â |Â MSN Twitter
MEN'S BASKETBALL:Â Twitter