Indiana Tech Tops Women's Basketball, Holds Mustangs to Season-Low 37 Points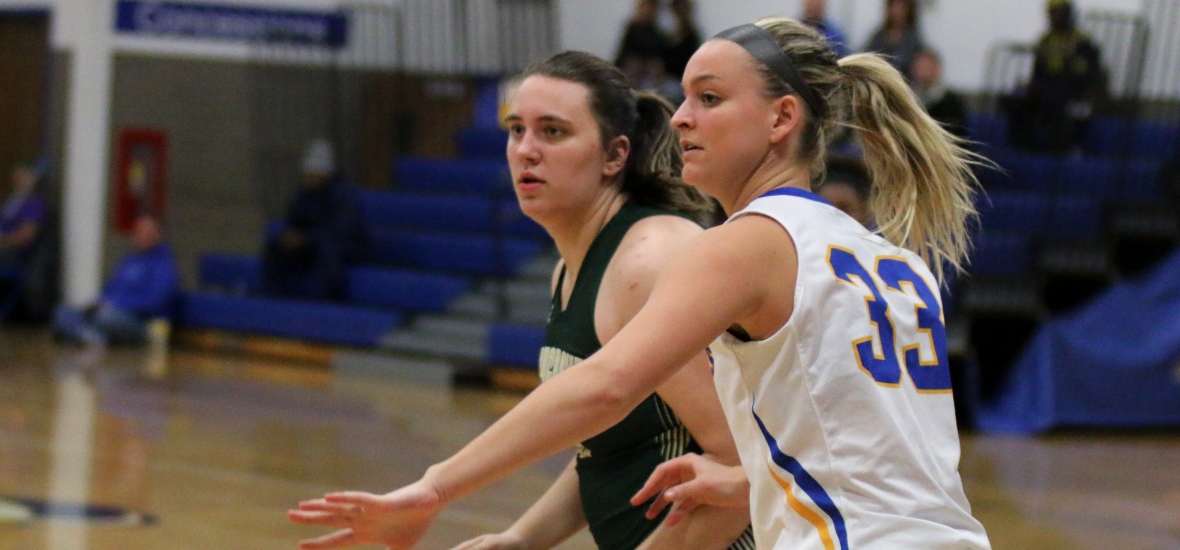 STAY CONNECTED: Facebook | Twitter | Instagram | YouTube
BE THE FIRST TO KNOW:Â Text & Email Alerts
DOWNLOAD OUR APPS:Â iOS (iPhone/iPad)Â |Â Android
FORT WAYNE, Ind. — Marygrove women's basketball departed Fort Wayne, Ind. on Wednesday (Nov. 18) still searching for the program's first WHAC winning streak as the host Warriors won 99-37, halting any thought of back-to-back wins for the Mustangs after the team topped Michigan-Dearborn on Monday (Nov. 16). 
The Mustangs are now even on the season at 4-4 overall (1-2 WHAC) – the best start under the direction of third-year head coach Craig Covington. The Warriors also break even, standing at 3-3 overall and 1-1 in WHAC play after topping the Mustangs.
The 37-point effort marked a season-low output for the Mustangs, three points shy of the team's 40 points at Spring Arbor on Nov. 9.
Behind efficient shooting from three-point range, the Warriors jumped out to an 11-0 lead and never looked back, taking a commanding 37-13 lead after one quarter of play. The Warriors averaged 3.7 per minute in the first quarter to run away with the conference contest early on Monday evening.
The Warriors extended their lead with another big quarter, posting a 61-17 halftime lead after 20 minutes of play. Trailing by 43 points on the break, the Mustangs headed to the locker room in search of ways to slow down the Warriors' offensive attack.
The Mustangs would do just that, holding the Warriors to 38 points over the latter half of play while posting 20 points of their own. Despite continuing to battle, the game was decided early with the Warriors tallying as many first-quarter points (37) as the Mustangs did at the end of Wednesday's contest in the 99-37 final.
Taylor Kelley (Farmington Hills, Mich./Adrian College) posted a team-high 13 points on 3-of-7 shooting from behind the three-point line and was followed by Elisha Major (Flushing, Mich./Flushing High School) with 12 points. Breanna Thomas (San Antonio, Texas/Gillette CC) corralled a team-leading nine rebounds for the Mustangs in the conference setback.
Haley Cook and Taylor Carver led the Warriors with 22 and 16 points, respectively, while Sarah White pulled down a game-high 12 rebounds to accompany a nine-point effort.
Covington and the Mustangs return to the floor Tuesday (Nov. 24) against the University of Northwestern Ohio at 6 p.m. The game will be played at Madonna University due to ongoing court construction and will also be streamed live on the Mustang Sports Network beginning at 5:45 p.m. 
WOMEN'S BASKETBALL CONTACT: Tim Johnston | [email protected]/* */ | @tjohnston56
MARYGROVE BROADCASTS:Â The Mustang Sports Network (MSN)Â |Â MSN Twitter
WOMEN'S BASKETBALL:Â Twitter