Efficient Indiana Tech Effort Leads to 24-Point Road Setback for Men's Basketball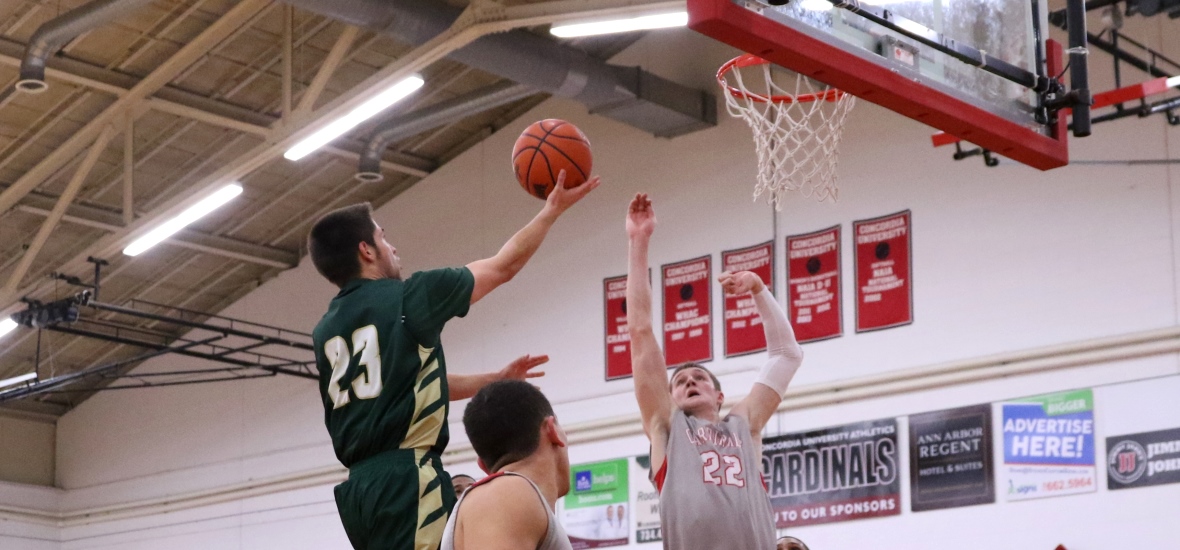 STAY CONNECTED: Facebook | Twitter | Instagram | YouTube
BE THE FIRST TO KNOW:Â Text & Email Alerts
DOWNLOAD OUR APPS:Â iOS (iPhone/iPad)Â |Â Android
FORT WAYNE, Ind. — Marygrove men's basketball dropped to 1-6 on the season and 1-3 in WHAC play with a 88-64 loss to Indiana Tech on Wednesday (Nov. 18) in Fort Wayne, Ind. Playing their seventh game in 12 days, the Mustangs got off to a slow start and never recovered as the host Warriors cruised to the 24-point victory in Wednesday's conference meeting.
The Warriors improve 1-1 in the WHAC and 3-2 overall with the win, moving ahead of the Mustangs by full game in the early stages of conference play.
Perimeter defense was key for the Warriors early, holding the Mustangs to an 0-for-11 effort from three-point territory in the opening half. The Warriors countered with five triples for a plus-15 differential as the hosts used the long line to hold a 49-30 lead at the halftime break.
The Mustangs shot 12-for-34 in the first half, countered by the Warriors' 16-for-34 effort from the field. Six more made free throws and the efficient three-point effort in the first half made up most of the first-half difference as the Mustangs allowed 45 or more points in the opening half for the fifth time in seven games this season.
The Warriors carried over the efficiency into half number two, leading by as many as 31 points in the second half before taking the 88-64 decision over the Mustangs. Â 
Sophomore guard Tyler Sykes (Sterling Heights, Mich./Stevenson High School) paced the Mustangs with a season-best 17 points on 7-of-15 shooting. Sykes added a team-high tying five rebounds and two steals to go along with a pair of assists.
Senior guard Diante Taylor (Battle Creek, Mich./Central High School) joined Sykes in double figures with 13 points on a 6-for-15 line from the field, adding four rebounds and two assists in 34 minutes. Thomas Simmons III (Detroit, Mich./Melvindale ABT) chipped in with nine points in 17 minutes of action for the Mustangs.
Miles Robinson led all scorers on Wednesday, chiming in with a game-high 20 points for the Warriors while teammate Levonte Davis tallied 18 points and nine rebounds in 29 minutes. Dominique Walls recorded the game's lone double-double with 14 points and 11 rebounds to help the Warriors keep the Mustangs at bay in the conference contest.
The Warriors shot 50-percent (29-of-58) from the field but took advantage of their time at the charity stripe by connecting on 23-of-28 from the free throw line. The Mustangs went 10-for-16 from at the free throw line and 26-of-70 from the field.
Siena Heights will host the Mustangs on Saturday (Nov. 21) at 1 p.m. as the Green and Gold look to even their WHAC record at 2-2 for the first time in program history. Live video and stats via Siena Heights will be available here. 
MEN'S BASKETBALL CONTACT: Tim Johnston | [email protected]/* */ | @tjohnston56
MARYGROVE BROADCASTS:Â The Mustang Sports Network (MSN)Â |Â MSN Twitter
MEN'S BASKETBALL:Â Twitter