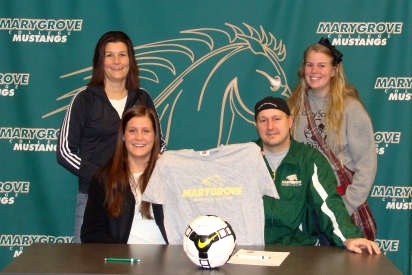 DETROIT, Mich.-On Tuesday, the national championship women's soccer team added Madison Heights Bishop Foley's Colleen Mullen to the 2010 class. The addition of Mullen brings the Mustangs total to three Bishop Foley grads on the women's soccer team (Sarah Kator & Amber Williamson).
Mullen, a 5'5″ physical defender, had a successful high school career playing alongside current Mustangs Kator and Williamson. She was a vital part of the Ventures' three year playoff run. The impressive playoff push started her sophomore season as the team won districts during the 2007 campaign. In 2008, she helped lead her team to a regional title and subsequently was named to the 2008 All-Area Team.
Her junior and senior year resulted in back-to-back state championship game trips that would solidify the 2009 class as one of the finest in Foley's rich soccer history. In the end, both trips to the title game would end up short as Foley dropped both decisions. Mullen's signing places her back in title contention with the defending USCAA National Championship Mustang squad. The team returns all players from last years team and has a solid recruiting class for the 2010 season.
Assistant Coach Stachura on Mullen: Colleen is a defensive presence that will strengthen our back line. Her success in high school while playing with Kator and Williamson will help us quite a bit. Colleen is a lockdown type defender that can negate the opposition's best attacker. Most importantly, Colleen is a sound student academically which fits in well with the excellent student-athletes we already have in the program.