Cold Shooting Dooms Women's Basketball, Siena Heights Pulls Away For 77-45 Victory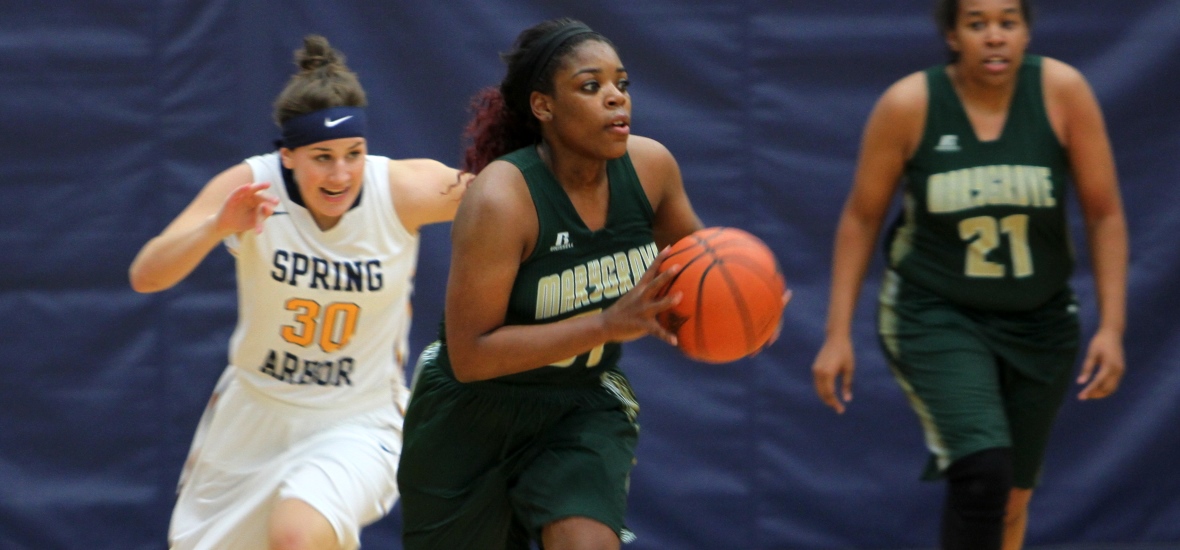 STAY CONNECTED: Facebook | Twitter | Instagram | YouTube
BE THE FIRST TO KNOW:Â Text & Email Alerts
DOWNLOAD OUR APPS:Â iOS (iPhone/iPad)Â |Â Android
ADRIAN, Mich. — A tough day from the field doomed Marygrove women's basketball in Adrian, Mich. on Saturday (Dec. 5) as the host Siena Heights Saints took advantage to win, 77-45. The Saints – a team receiving votes in the first NAIA Coaches Poll – moved one game over .500 (5-4) with the win while improving to 2-3 in the WHAC. The Mustangs slid to 4-7 overall and 1-5 in the conference after suffering their fourth consecutive loss.
Despite going cold from the field, the Mustangs were able to hang in with the receiving votes squad for the better part of the first half, falling behind 34-21 at the break after only being down by three, 14-11, through one quarter of play. The Saints used a 22-10 advantage in the third quarter to distance themselves from the Mustangs, eventually earning the 31-point victory at home.
The Mustangs shot 25-percent from the field (15-of-60) while only connected on 18-percent of their attempts from three-point territory (6-of-32). The Saints countered with a 44-percent effort from the floor, sinking 18 more field goals to earn the 31-point victory.
The Mustangs were led by junior forward Breanna Thomas (San Antonio, Texas/Gillette CC) led the Mustangs with 12 points and 12 rebounds to record her team-leading third double-double of the 2015-16 campaign. Thomas was followed by Taylor Kelley (Farmington Hills, Mich./Adrian College) with 11 points and five boards, while Elisha Major (Flushing, Mich./Flushing High School) and Shavarra Patton (Detroit, Mich./Northwestern High School) combined for 16 points and seven steals.
Lauren Wirth paced the Saints with a double-double of her own, tallying 16 points to go along with a team-high tying 11 rebounds.
Up next for the Mustangs is a Dec. 12 showdown with Madonna in Livonia, Mich. at 1 p.m.