Volleyball's Adkins, Pappas and Staudt Sisters Tabbed Daktronics-NAIA Scholar Athletes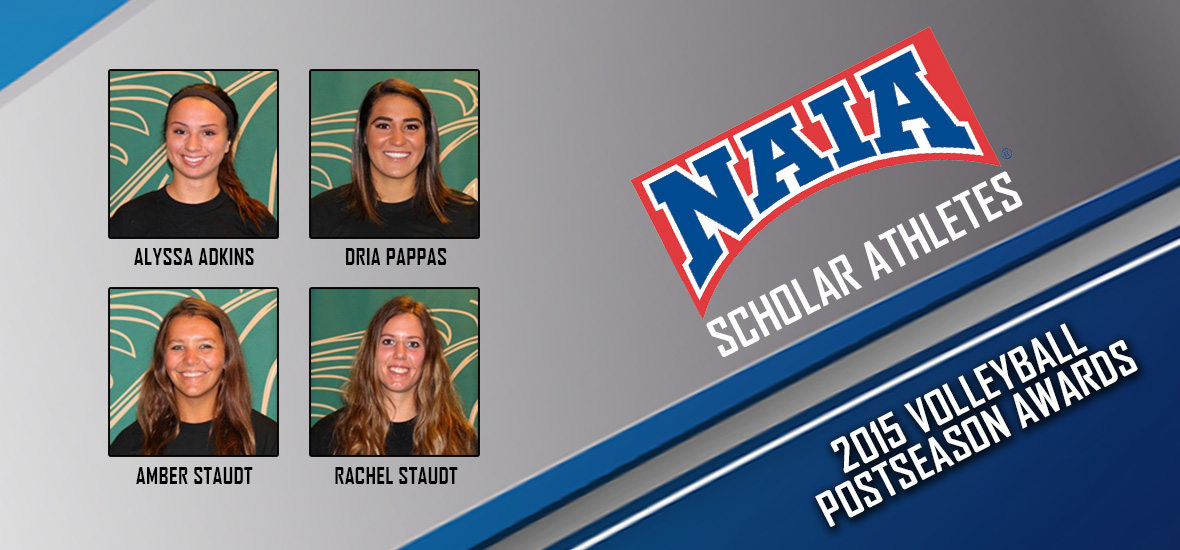 STAY CONNECTED: Facebook | Twitter | Instagram | YouTube
BE THE FIRST TO KNOW:Â Text & Email Alerts
DOWNLOAD OUR APPS:Â iOS (iPhone/iPad)Â |Â Android
KANSAS CITY, Mo. — The National Association of Intercollegiate Athletics (NAIA) announced Friday (Dec. 4) that 428 volleyball student-athletes have been named 2015 Daktronics-NAIA Scholar-Athletes. Marygrove women's volleyball checked in with four honorees as Alyssa Adkins, Alixandria Pappas, Amber Staudt and Rachel Staudt were all named to the heralded academic list.
The Mustangs' four honorees tied for second among all Wolverine-Hoosier Athletic Conference (WHAC) schools.
Kansas Wesleyan led all institutions with 10 individuals on the list.
In order to be nominated by an institution's head coach or sports information director, a student-athlete must maintain a minimum grade point average of 3.5 on a 4.0 scale and must have achieved a junior academic status to qualify for this honor.
Adkins (Melvindale, Mich./Melvindale High School) and Amber Staudt (Novi, Mich./Schoolcraft College) earned the honor in their first year of eligibility, while Pappas (St. Clair Shores, Mich./Lakeview High School) took home the award for the second consecutive season. Rachel Staudt (Novi, Mich./Lawrence Tech) ended her lone active season with the Mustangs as one of four honored and would have been a two-time honoree if it wasn't for the award's enforced one-year residency rule.
In her lone season with the Mustangs, [Rachel] Staudt put forth an effort that landed the senior in fifth place all-time in a single campaign with 281 kills and third all-time in kills per set in a season with 2.42. Pappas ends a stellar four-year career eighth in all-time kills (466) and second in total blocks (173).
All four Daktronics-NAIA Scholar Athletes were also recently tabbed as members of the WHAC All-Academic Team and United States Collegiate College Athletic Association (USCAA) Academic All-Americans. The four Mustangs were joined on the USCAA team by Hailey Brandes (Southgate, Mich./Anderson High School), Paige Hughes (Belleville, Mich./Huron High School) and Ashley Murphy (Southfield, Mich./Clarenceville High School). Student-athletes must be a sophomore or above in academic standing and possess a 3.5 or higher cumulative GPA in order to be named to the USCAA Academic All-American Team.
WOMEN'S VOLLEYBALL CONTACT: Tim Johnston | [email protected]/* */ | @tjohnston56
MARYGROVE BROADCASTS:Â The Mustang Sports Network (MSN)Â |Â MSN Twitter
WOMEN'S VOLLEYBALL:Â Twitter