Women's Soccer Senior Sara Ruch Earns Second Daktronics-NAIA Scholar Athlete Honor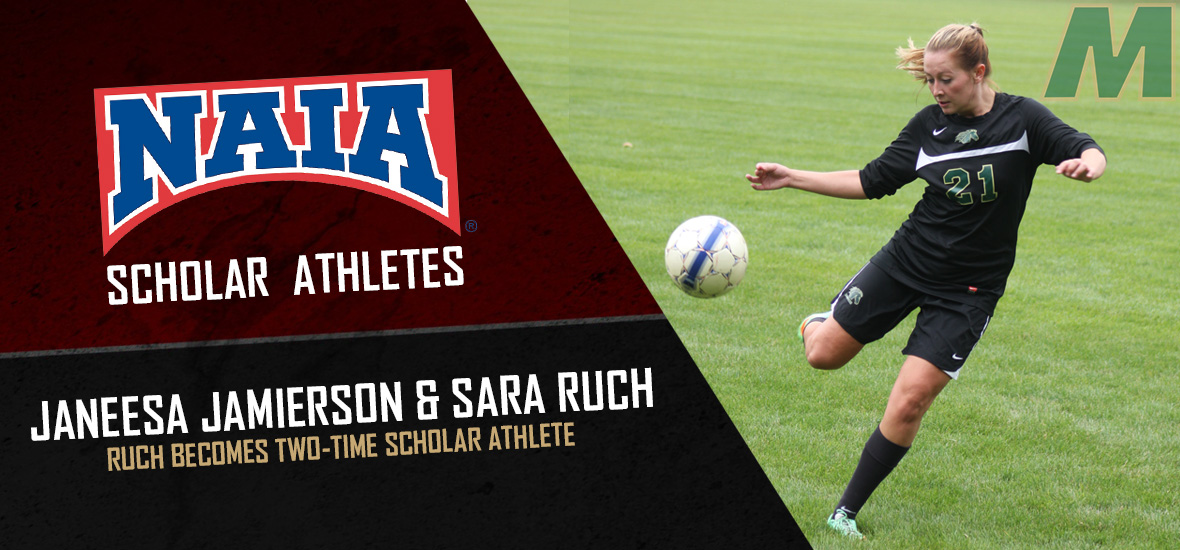 STAY CONNECTED: Facebook | Twitter | Instagram | YouTube
BE THE FIRST TO KNOW:Â Text & Email Alerts
DOWNLOAD OUR APPS:Â iOS (iPhone/iPad)Â |Â Android
KANSAS CITY, Mo. — The National Association of Intercollegiate Athletics (NAIA) announced Friday (Dec. 4) that 588 women's soccer student-athletes have been named 2015 Daktronics-NAIA Scholar-Athletes. Senior defender Sara Ruch led Marygrove women's soccer with her second nomination in as many seasons while fellow senior Janeesa Jamierson also earned a nod as a scholar athlete.
Goshen (Ind.) paced all programs with 14 individuals on the list.
In order to be nominated by an institution's head coach or sports information director, a student-athlete must maintain a minimum grade point average of 3.5 on a 4.0 scale and must have achieved a junior academic status to qualify for this honor.
Jamierson and Ruch were also recently tabbed United States Collegiate Athletic Association (USCAA) Academic All-Americans and Wolverine-Hoosier Athletic Conference (WHAC) All-Academic team members.
Ruch, a senior from Oxford, Mich., enjoyed the best statistical campaign of her four-year career with a pair of points in 10 matches – tying her overall output from the 2013 season in 17 caps. The senior closes a well-rounded four-year career as a three-time USCAA Academic All-American, two-time Daktronics-NAIA Scholar Athlete and two-time WHAC All-Academic honoree.
Ruch was named a co-captain for the 2015 season, the first under head coach Worteh Sampson, and was joined by fellow senior Brandy Lynch.
Jamierson (Battle Creek, Mich./Kellogg CC), a former women's basketball standout on the northwest Detroit campus, is a multiple-time Daktronics-NAIA Scholar Athlete. The senior was slated to become the starting keeper for the women's soccer team this season before suffering a season-ending hand injury. Jamierson is also a two-time USCAA Academic All-American and three-time member of the WHAC All-Academic team.
WOMEN'S SOCCER CONTACT: Tim Johnston | [email protected]/* */ | @tjohnston56
MARYGROVE BROADCASTS: Mustang Sports Network | Twitter
FOLLOW THE TEAM 24/7:Â Twitter