Offensive Woes Continue as Women's Basketball Drops Conference Tilt to Madonna, 92-43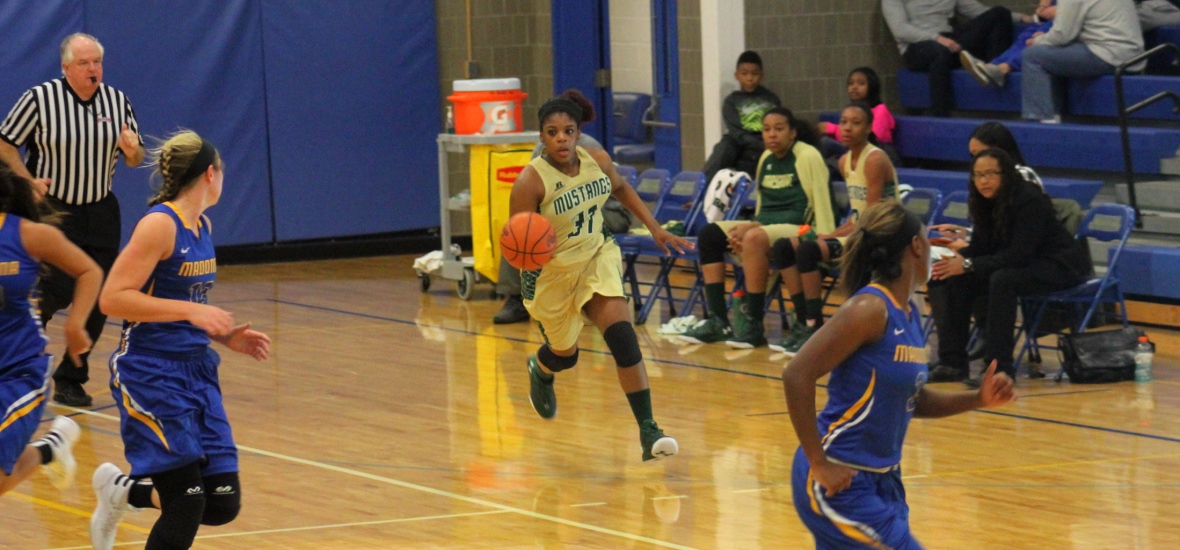 STAY CONNECTED: Facebook | Twitter | Instagram | YouTube
BE THE FIRST TO KNOW:Â Text & Email Alerts
DOWNLOAD OUR APPS:Â iOS (iPhone/iPad)Â |Â Android
LIVONIA, Mich. — The skid for Marygrove women's basketball hit five games on Saturday (Dec. 12) as WHAC counterpart Madonna Crusaders ran away with a 92-43 win in Livonia, Mich. The Mustangs – winless since a 62-59 victory over Michigan-Dearborn on Nov. 16 – were the home team, despite playing at Madonna, due to ongoing court construction inside Northwest Activities Center in Detroit.
The Crusaders improved to 3-7overall and 3-4 in the WHAC with the 49-point win over the Mustangs (4-8, 1-6 WHAC).
With 43 points against the Crusaders, the Mustangs have now posted less than 50 points in four out of their last five outings.
Junior forward Breanna Thomas (San Antonio, Texas/Gillette CC) enjoyed another great outing behind a game-high tying 15 rebounds to go along with 13 points. The well-rounded effort was Thomas' fifth double-double of the 2015-16 campaign – the most for a Mustang in a single season since 2012-13. Thomas pulled down nine offensive rebounds, accounting for seven of the Mustangs' 11 second chance points on the afternoon.
Despite Thomas' effort, the Crusaders pulled ahead early to take a 20-10 lead after one quarter and a commanding 41-18 advantage at the halftime break. Becca Sabol led the charge for the Crusaders with a double-double at the half, posting 13 points and 10 rebounds after the first 20 minutes of action.
Sabol and the Crusaders continued to excel in the latter half, outscoring the Mustangs 51-25 in quarters three and four to take the 92-43 victory.
Sabol played 26 minutes and was pulled late in the third quarter after posting 23 points, 15 rebounds and four blocks in the win. The forward was followed in the scoring column by Kelsey Gerhardt with 15 points and Lindsey Hernden with 13 of her own. Hernden connected on team-best four three-pointers as the Crusaders won the battle from distance by dropping in 14 threes compared to just one for the Mustangs.
The Crusaders also made the most of their opportunities by turning 22 Marygrove turnovers in a 32-10 edge in points off turnovers.
Shavarra Patton (Detroit, Mich./Northwestern High School) led the Mustangs with 15 points while Thomas' 13 accounted for the only other Mustang in double digits. Taylor Kelley (Farmington Hills, Mich./Adrian College) tallied six points and corralled six rebounds in 36 minutes to round out the top scorers for the Mustangs.
The Mustangs return to action Friday (Dec. 18) against NCAA Division III Kalamazoo College at 6 p.m.
WOMEN'S BASKETBALL CONTACT: Tim Johnston | [email protected]/* */ | @tjohnston56
MARYGROVE BROADCASTS:Â The Mustang Sports Network (MSN)Â |Â MSN Twitter
WOMEN'S BASKETBALL:Â Twitter