Weekly Notes: Men's Basketball Prepares For Tough Road Game at NCAA D2 Findlay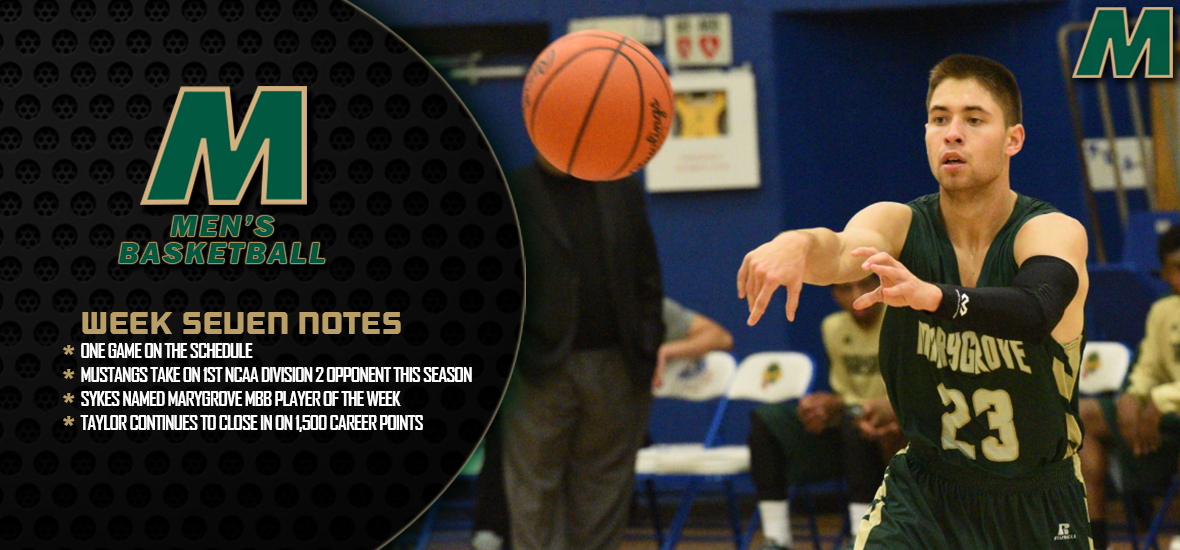 CLICK HERE FOR THE COMPLETE VERSION OF THE WEEK SEVENÂ GAME NOTES (PDF)
SATURDAY, DECEMBER 19
Marygrove (1-11, 1-6Â WHAC) at Findlay (4-4, 2-2 GLIAC)
Time: 3Â p.m.
Location: Croy Gymnasium — Findlay, Ohio
Coverage: Live Video | Live Audio | Live Stats
BY THE NUMBERS
4: Averaging 70.8 points per game, the Mustangs boast one of the more balanced offenses in the WHAC with four (4) players posting 10-or-more points per contest. Diante Taylor leads with way at 11.9 per game, followed by Ta'Kein Dixson (10.8), Elijah Ingram (10.8) and Kenneth Miller (10.3).
6: Diante Taylor and sophomore center Sirafino Davis lead the way on the glass for an otherwise undersized Mustangs squad as the only two members of the team averaging six (6) or more rebounds per game. Taylor checks in at 7.1 boards per game while Davis pulls down six per outing.
1: Sirafino Davis enters the week as one of the top shot blockers in the NAIA with 36 swats through 12 games. Davis' defensive effort has positioned the 6-9 sophomore in a tie for first (1) in NAIA Division II total blocks with 36. The sophomore's efforts are featured in the infographic below.
MUSTANG REWIND
Improvement was there, but the Mustangs fell to 1-11 overall and 1-6 in Wolverine-Hoosier Athletic Conference (WHAC) play with a pair of losses on Nov. 27-28 at the Lindsey Wilson (Ky.) Classic and a road league setback at Lawrence Tech on Dec. 2. Tyler Sykes (Sterling Heights, Mich./Stevenson High School) led all Mustangs at Lawrence Tech with 13 points on 6-of-12 shooting.
A LOOK AHEAD
The Mustangs will play a pair of games over the holiday break beginning on Dec. 29 on the road against the Trolls of Trinity Christian. The game in Illinois will be followed by a Dec. 30 tip-off at Purdue Calumet. The next home game is Jan. 2 opposite No. 5 Cornerstone.
SCOUTING THE FINDLAY OILERS
The Oilers enter the week with an even 4-4 mark on the season and a 2-2 record in GLIAC play. Martyce Kimbrough leads the Oilers with 12.8 points per game, followed by Taren Sullivan's 10.4 points per contest.
THE LAST TIME THEY MET…
A game-high tying 14 points from then-sophomore Diante Taylor was not enough to keep pace with six in double figures for the Oilers as the Mustangs fell 105-50 in Findlay, Ohio back on Nov. 9, 2013. Austin Gardner and Greg Kahlig paced the Oilers with 14 points each.
DID YOU KNOW?
Much of the credit goes to swatting sophomore [Sirafino] Davis, but the Mustangs rank 19th nationally in the NAIA with 47 total blocks as a team.
TAYLOR CLOSES IN ON 1,500
Senior guard Diante Taylor is close to putting a cap on a stellar four-year career as a Mustang – a journey that will likely end in Taylor becoming the third member of the Mustangs' 1,500-point club. Taylor is only 71 away from 1,500, entering the week with 1,429 career points. Taylor will need to average 16 points per game the rest of the way to break Marcus Hopkins' program record of 1,716 career points.
 
MILLER IS DISHING IT OUT
Redshirt sophomore guard Kenneth Miller (Flint, Mich./Grand Blanc High School) has been on a roll in the assists department as of late, dishing out 30 assists over the past five games. Miller has amassed six or more assists in four games over that same stretch.
PART OF A STRONG SOPH. CLASS
Miller is one of seven sophomores on the 2015-16 roster. Sirafino Davis and Tyler Sykes join Miller with a bevy of experience for the Mustangs while Isaac Gillum is bursting onto the scene for the first time with 7.1 points per game.
THIS WEEK IN MUSTANG HISTORY
In a game that featured 17 lead changes, the Mustangs got the last laugh in a thrilling 79-78 win over Roosevelt (Ill.) in Livonia, Mich. on Dec. 17, 2011. Former Mustang Omar Thomas sank the game-winning shot and tallied a game-high 26 points and 15 rebounds.
THE MUSTANG SPORTS NETWORK
Watch all home games via live video on marygrovemustangs.com/live – your home for in-game coverage with Jeremy Otto and Brendan Johnson on the call.
STAY CONNECTED: Facebook | Twitter | Instagram | YouTube
BE THE FIRST TO KNOW:Â Text & Email Alerts
DOWNLOAD OUR APPS:Â iOS (iPhone/iPad)Â |Â Android
MEN'S BASKETBALL CONTACT: Tim Johnston | [email protected]/* */ | @tjohnston56
MARYGROVE BROADCASTS:Â The Mustang Sports Network (MSN)Â |Â MSN Twitter
MEN'S BASKETBALL:Â Twitter