Women's Basketball Closes Out 2015 Play With a 66-53 Setback to Kalamazoo College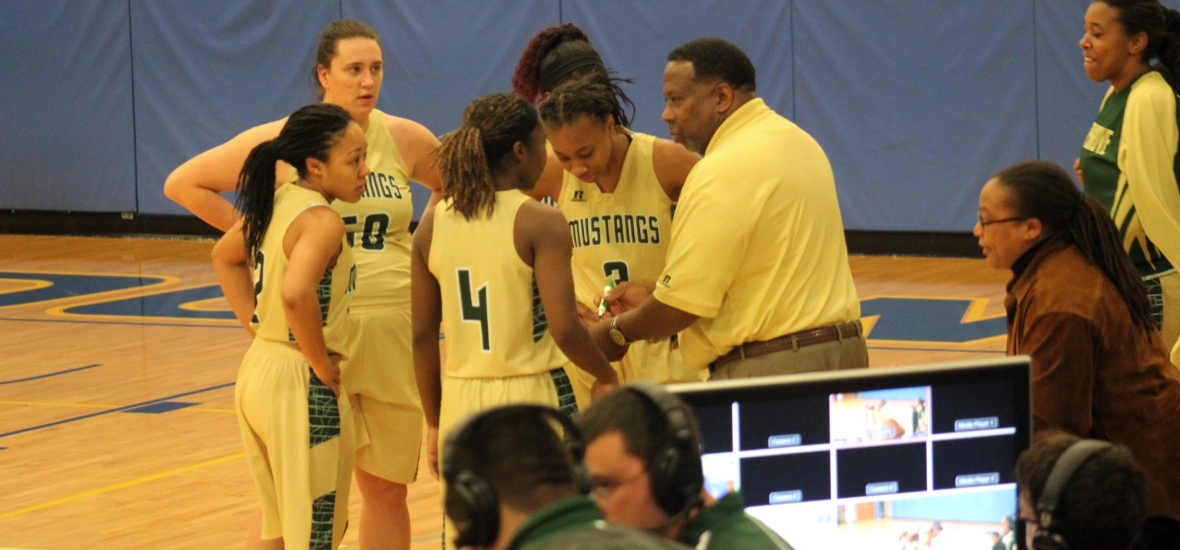 STAY CONNECTED: Facebook | Twitter | Instagram | YouTube
BE THE FIRST TO KNOW:Â Text & Email Alerts
DOWNLOAD OUR APPS:Â iOS (iPhone/iPad)Â |Â Android
SOUTHFIELD, Mich. — Marygrove women's basketball rounded out the 2015 calendar with a 66-53 non-conference setback against NCAA Division III Kalamazoo College inside Ridler Field House in Southfield, Mich. on Friday (Dec. 18). Elisha Major (Flushing, Mich./Flushing High School) led the Mustangs with 16 points and Taylor Kelley (Farmington Hills, Mich./Adrian College) followed with 10 as part of a surge in the third quarter before the Hornets pulled away behind a 9-0 run to win by 13 points.
The Mustangs fell to 4-9 on the season after losing their sixth consecutive game while the Hornets improved to 3-6 on the campaign.
Grace Smith was the difference for the Hornets, posting a game-high 21 rebounds to go along with 18 points in 32 minutes of action. The double-double was Smith's third of the 2015-16 season.
Behind Smith's big night, the Hornets pushed ahead to take a 22-13 lead after one quarter and a 39-31 advantage at the halftime break. The Mustangs bounced back in the second quarter, outscoring the Hornets 18-17 in the period to pull within three possessions at the half.
The Hornets' eight-point lead at the break was a product of Smith's 14 points and 11 rebounds after 20 minutes of play.
The Mustangs made a push in the third quarter, closing the gap to six points with 6:30 remaining in the frame before the Hornets answered with a 9-0 run of their own to take a commanding lead. The run would dash any hope of a Mustang comeback as the Hornets led by as many as 22 points in the fourth quarter in the 66-53 decision.
Second-chance points went in the favor of the Hornets, 17-11, while the Mustangs took an 18-10 edge in points off turnovers. The Hornets connected on 28-of-72 shots to shoot 39-percent from the field, opposed by a 26-percent effort (20-of-76) for the Mustangs.
Four Hornets were in double figures scoring as Smith's 18 paced a balanced offensive night for the visitors.
Breanna Thomas (San Antonio, Texas/Gillette CC) corralled a team-best 11 rebounds and added six points while Theresa Dray (Davison, Mich./Davison High School) pulled down eight boards while also chipping in with six points. Shavarra Patton (Detroit, Mich./Northwestern High School) and Shyra Eddings (Detroit, Mich./Mumford High School) combined for 15 points and 11 rebounds to help keep the Mustangs in striking distance most of the night.
The Mustangs will take a lengthy break before hitting the court again on Jan. 2 at 1 p.m. when Cornerstone visits the Motor City.
WOMEN'S BASKETBALL CONTACT: Tim Johnston | [email protected]/* */ | @tjohnston56
MARYGROVE BROADCASTS:Â The Mustang Sports Network (MSN)Â |Â MSN Twitter
WOMEN'S BASKETBALL:Â Twitter