Concordia-Ann Arbor Pulls Away in the Second Half to Top Women's Basketball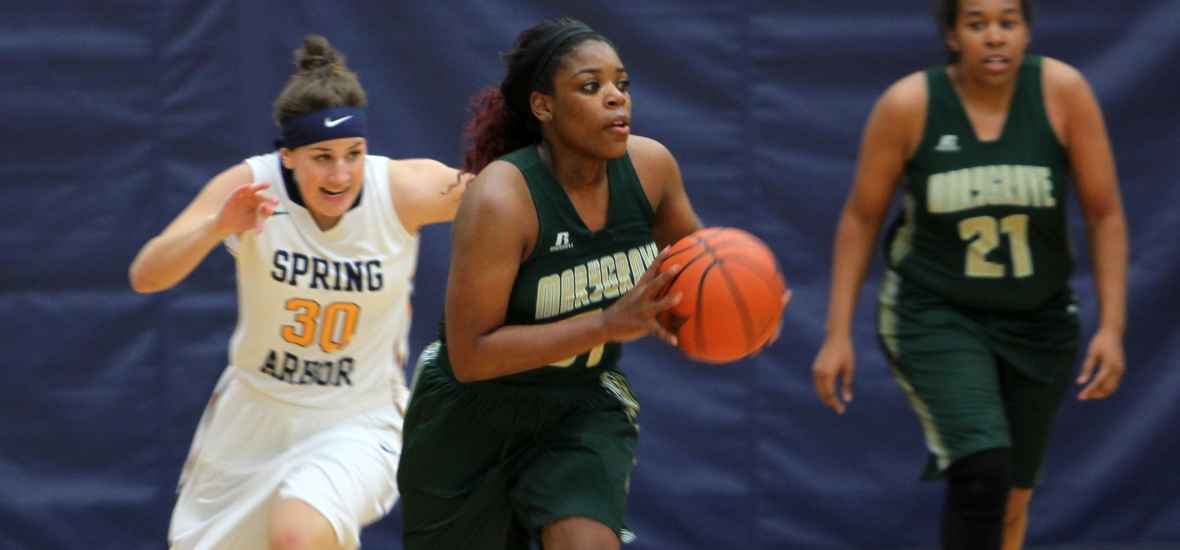 STAY CONNECTED: Facebook | Twitter | Instagram | YouTube
BE THE FIRST TO KNOW:Â Text & Email Alerts
DOWNLOAD OUR APPS:Â iOS (iPhone/iPad)Â |Â Android
ANN ARBOR, Mich. – With seven available student-athletes, Marygrove women's basketball could not overcome a balanced effort out of Concordia-Ann Arbor on Saturday (Jan. 9) as the host Cardinals pulled away late to win, 86-47. Down three after one and 15 at the half, the Mustangs couldn't keep pace late as the Cardinals outscored the Green and Gold 27-8 in the fourth quarter to widen the gap in the conference contest.
The Mustangs are now 4-12 overall and 1-9 in the WHAC after the road loss while the Cardinals elevated their record to 10-6 on the season (5-5 WHAC).
The Cardinals shot 42-percent for the game (32-of-75) compared to just 20-percent out of the Mustangs (16-of-80) to make up the difference in Ann Arbor on Saturday. The Cardinals also out-rebounded the Mustangs, 65-46, while taking a sizeable 27-2 advantage in assists.
Teonna Pope (Detroit, Mich./Martin Methodist) tallied a game-high 22 points in her first action as a Mustang after transferring in earlier this season. Elisha Major (Flushing, Mich./Flushing High School) and Breanna Thomas (San Antonio, Texas/Gillette CC) followed with 11 and 10 points, respectively, while Theresa Dray (Davison, Mich./Davison High School) rounded out the scoring for the Mustangs with four points of her own.
Thomas led the Mustangs on the glass with a game-high 13 rebounds.
The Cardinals had 13 players score at least two points in the win, led by Kaira Barnes with 18 points.
The Mustangs host Central State on Monday (Jan. 11) at 7 p.m.