Shorthanded Women's Basketball Squad Falls to Lourdes on the Road, 88-49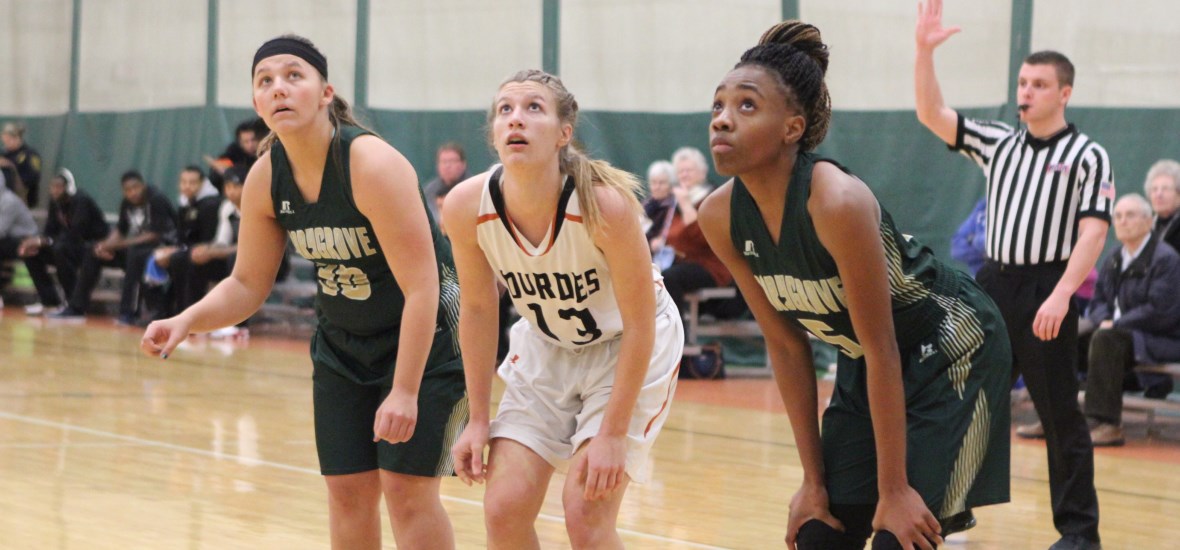 STAY CONNECTED: Facebook | Twitter | Instagram | YouTube
BE THE FIRST TO KNOW:Â Text & Email Alerts
DOWNLOAD OUR APPS:Â iOS (iPhone/iPad)Â |Â Android
SYLVANIA, Ohio — Marygrove women's basketball was outdone by a deeper, larger team for the second consecutive game as Lourdes topped the Mustangs in runaway fashion, 88-49, on Wednesday (Jan. 13) in Sylvania, Ohio. The Mustangs fell short of 50 points for the third time in their last five games while allowing 80 or more points for the third consecutive contest to fall to 4-14 on the season and 1-10 in WHAC action.
The Gray Wolves moved one game ahead of the Mustangs in the conference standings at 2-9 (5-13 overall).
Without three key starters, the Mustangs fell behind 22-12 after one quarter and a tally of 42-24 once the halftime buzzer rang. The Mustangs' struggles continued into the third quarter where they scored six points, compared to 18 for Lourdes, as the host Gray Wolves pulled away in the 88-49 rout.
Rebounding was the deciding factor once again as the Gray Wolves pulled down 63 boards to the Mustangs' 40. Breanna Thomas accounting for nearly half of the Mustang rebounds with 19 of her own, tallying 11 points as well for her sixth double-double of the 2015-16 campaign.
Offensively, the Mustangs were anchored by strong efforts out of Teonna Pope (Detroit, Mich./Martin Methodist) and Elisha Major (Flushing, Mich./Flushing High School) as the pair poured in 16 and 15 points, respectively. Pope added four rebounds while Major tied Amber Kelly (Mt. Morris, Mich./Mt. Morris High School) for a team-best two steals.
The Gray Wolves were led by Jesse Fidler with 19 points and 16 rebounds.
A date with No. 5 Davenport is up next for the Mustangs on Saturday (Jan. 16) in Grand Rapids. Tip time is slated for 1 p.m.