Blue Raiders Box Out Mustangs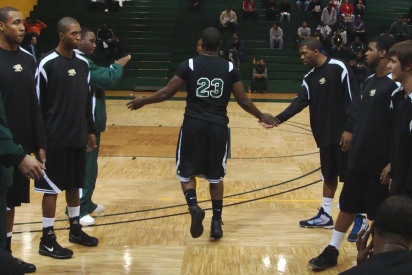 COLUMBIA, Ky.-On Saturday, the Mustangs traveled to Lindsey Wilson College in Kentucky for a pivotal NAIA battle. An even battle to start quickly turned in the favor of the host Blue Raiders as the NAIA power boxed out the Mustangs for an impressive 26 offensive rebounds en route to a 93-59 win.
The game marked the first time the Mustangs were outrebounded since a Dec. 11, 2009 battle against Ohio Dominican (-4 rebounds). The Blue Raiders amassed 57 rebounds on the night compared to the Mustangs 37 for a -20 differential.
Of the 57 rebounds, 26 were offensive that led to 18 second chance points for the hosts. The Mustangs also allowed 52 points in the paint in the defeat.
Marcus Hopkins had a game-high with 23. He was followed by Eric Johnson who continued his hot streak with 15 points.
The Mustangs will have little time to regroup before squaring off against USCAA rival Rochester College (9-7) Wednesday evening. The game will be the first contest for Rochester since 12/21/2009. Tip-off is set for 7:30pm at Oakland Christian High School (Auburn Hills).