Lady 'Stangs Lockdown Cougars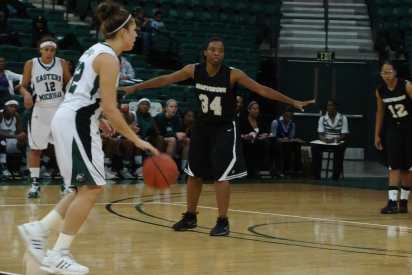 GRAND RAPIDS, Mich.-On Wednesday, the #9 ranked Mustangs hit the road for a cross-state showdown against the Cougars of Kuyper College. The Mustangs (7-8) went into the game heavy favorites as they looked to get back to the .500 mark before a 10-day layoff.
A record-setting performance fueled a 68-28 rout of the Cougars. "We turned our defense up a notch tonight. I challenged the girls out of the gate to play hard because it's always tough to play on the road, " said women's coach Tony Hitchcock of his girls performance. The 40-point win comes at a great time for the Mustangs as they look to climb in the USCAA rankings (currently #9) as the season winds down.
Keara Marks (Detroit, Mich.) continues to be a force to be reckoned with in only her freshman season. The 5'9″ forward bullied her way to another double-digit effort (14 points). She added six rebounds, two steals and a block to lead the Mustangs back to the .500 mark at 8-8 on the season.
Maria Martin (West Bloomfield, Mich.) broke out for 12 points and 8 rebounds, while Nastashia Young (Detroit, Mich.) had her best effort coming off a devastating injury with 10 points.
The Mustangs will have a lengthy delay before hitting the hardwood once again. A 10-day layoff awaits the club before they travel to Ohio Dominican University for an A.I.I. showdown at 2pm on Saturday the 23rd. Currently, the two teams are battling for the #2 spot in the A.I.I. conference rankings.
GAME NOTES: The Mustangs held the struggling Cougars squad to a mere eight field goals in the contest. The mark would set a new record for the Mustangs for fewest field goals made by an opponent (previous: 9  – 02/07/2005 vs. Andrews University). Strong defense held the Cougars to 28 points, but that was not enough to break a record for fewest points allowed. That record still holds from a Feb. 7, 2005 tilt against Andrews University in which the Mustangs won, 59-25.