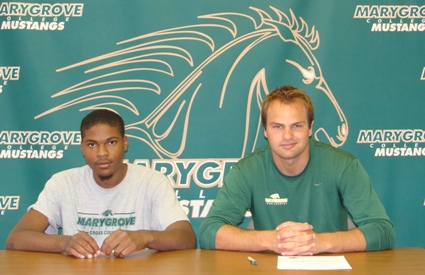 DETROIT, MI–Country head coach Lee Shaw added another student-athlete for the upcoming inaugural season on Monday. LeAvery Wyckoff from Detroit Communication & Media Arts High School signed a letter of intent to run this fall for the Mustangs.
Wyckoff comes to Marygrove after a well-rounded high school career in cross country, basketball and track. After experiencing success in every sport, Wyckoff decided cross country was his future and Marygrove became his choice. The two-time All-City distance runner led his team to city and regional championships (2008). Wyckoff's impressive junior and senior campaign also led him to back-to-back trips to the state championship meet. Wyckoff's track days landed him All-City honors in the 4×800 and a state qualifying time in the 4×400.
Coach Shaw on Wyckoff: LeAvery is a local athlete that showed he has a lot of potential. We are excited to coach LeAvery the next four years after seeing what LeAvery could do in two seasons of experience. The sky is the limit for an athlete with his skill and attitude.