Clinton's Rose Hoffman Inks with Mustangs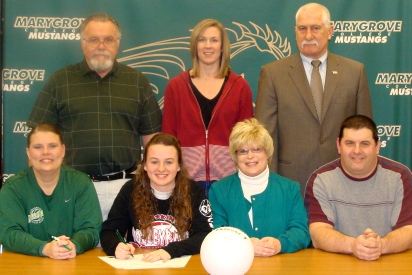 DETROIT, Mich.-Coach Karen Graves is not one to wait around. The second year coach continues to grab some of Michigan's finest volleyball players at an alarming pace. On Thursday, Clinton's Rose Hoffman inked a letter of intent to play for the Mustangs in 2010.
Hoffman, a 5'3″ libero/setter, will enter her college career as another versatile addition for the Mustangs. During her days as a Clinton Redskin, Hoffman tallied the defensive player of the year award three times: 2006, 2007, and most recently in 2009. Her play also paved the way for a 2009 Tri-County Conference Championship. The stellar regular season culminated in a district championship for Hoffman and the Redskins.
Amongst all the highlights throughout her career, Hoffman lists a 2009 match against Madison as her favorite sports moment. A five-set thriller ended in the Redskins favor over Madison to send Hoffman and the team to the regional finals.
Coach Graves on Hoffman: We are very excited with the addition of Rose Hoffman to our program. She's extremely versatile and carries a tremendous attitude towards others and the game. I have no doubt that she will make and immediate impact and have success at the collegiate level. I will lean on and look to Rose frequently to step in wherever the team needs her.