#7 Ranked Wildcats Top Mustangs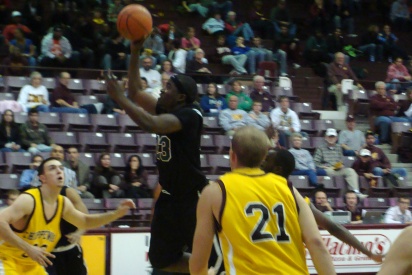 MARION, Ind.-On Saturday, the Mustangs traveled to a top-ten national power, #7 ranked Indiana Wesleyan University. The Wildcats narrowly escaped Detroit with a victory early this season. The Mustangs entered the game in need of another marquee win to bolster their resume for postseason play.
The Mustangs high-octane offense was stymied in the first half by a swarming Wildcat defense. Ten (10) turnovers were forced by the host Wildcats over the Mustang on their way to a 38-24 halftime advantage.
After back-to-back offensive outbursts, the Mustangs only able to muster up 10 points in the final 11:00 minutes of action after holding a slim 14-11 lead with 11:14 left before the half. The first stanza saw two impressive Wildcat runs that kept the Mustangs from taking a sizeable lead.
One (7-0 run) was used to overtake a 14-11 Mustang edge. The next (14-4 run) was a dagger before the half and put the Wildcats up, 38-24, at the break. The final run started with 3:58 remaining in the first half with the Wildcats clinging to a narrow 24-20 lead.
Foul trouble doomed an already shorthanded Mustang squad in the first half. Junior forward Justin McKinney (Detroit, Mich.) collected two early fouls to send one of the Mustangs top threats to the bench. Fellow junior Keontay Glazier (Pontiac, Mich.) also made his way to the bench after picking up an early pair in the contest. The two combine for nearly 30% of the Mustangs offense during the second semester of play.
Unlike their last few games, the Mustangs failed to come out of the locker room one fire for half number two. The home Wildcats took advantage of a slow second half start for the Mustangs and raced out to a substantial lead.
The Mustangs did not give up and continued to battle throughout. In the end, the #7 nationally ranked Wildcats were too much once again with an 83-51 victory over the Mustangs.
Marcus Hopkins (Southfield, Mich.) led the Mustangs with 13 points, 5 rebounds, and 3 assists. He was followed in the point column by Justin McKinney with 12 points. Indiana Wesleyan countered with three players in doulble figures.
NOTES: The Mustangs did not attempt a free throw until 6:46 remaining in the contest…The Mustangs would finish 5-9 overall on the afternoon from the line (IWU 14-23)…Team Fouls: Marygrove 21, IWU 12…Marygrove 35% FG (23-65), IWU 55% FG (32-58)…