Mile High Playoff Preview – Live Audio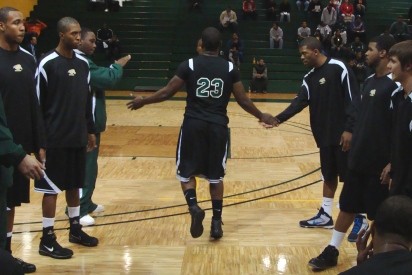 DENVER, CO-The Mustangs take flight tomorrow to Denver, CO for the Association of Independent Institutions (A.I.I.) Conference Tournament. The conference championship will play host to four teams with the winner earning an automatic bid to the NAIA National Tournament.
Marcus Hopkins (Southfield, Mich./Southfield) and his 14.7ppg average will lead the #4 Mustangs into Denver for a semi-final showdown against host and #1 seed Johnson & Wales University Wildcats. He will be joined by a group of hungry Mustangs that are focused on getting to the NAIA National Championship Tournament.
The Wildcats are set to host the tournament after a 15-13 regular season. The stellar campaign landed the host Wildcats the top seed in this year's tournament. Despite the seedings, any team that gets hot and plays hard can win the tournament. No team heads into the Mile High City with a decisive edge on paper which should lead to compelling tournament action.
A semi-final win over the Wildcats would setup a championship match-up against the winner #2 Ohio Dominican University and #3 Walla Walla University.
Listen in to live action from Denver on www.marygrovemustangs.com. The Mustangs open A.I.I. action at 7:00pm EST Saturday. Click on the LIVE AUDIO link on the homepage or follow the link provided HERE for live audio Saturday at 7pm! GO MUSTANGS!