Mustangs Sputter In Second, Lose 15 Point Halftime Lead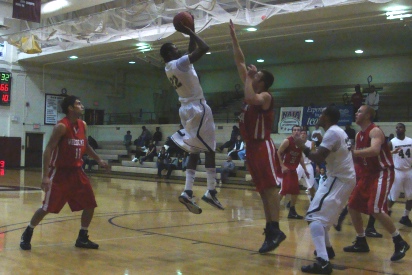 SYLVANIA, Ohio-The Mustangs first game on the 2011calendar didn't end the way they imagined it after a 48-45 road loss at Lourdes College. The NAIA newcomer Gray Wolves fought back from a 34-19 halftime deficit to stall the Mustangs in the second half.
The Mustangs 34-19 lead at the break was capped off by a Marcus Hopkins (Southfield, Mich./Southfield) three pointer from freshman Darryll Dixon (Flint, Mich./Hamady). After the break, the Mustangs were simply unable to make the big plays down the stretch as the team was only able to muster 11 points in the final 20 minutes.
The low 11-point output allowed the host Gray Wolves to outscore the Mustangs 29-11 in the second half. Despite being a new, provisional member of the NAIA, Lourdes College has captured impressive victories this season over stellar NAIA opponents en route to a 9-10 record.
Hopkins led the Mustangs with 10 points on 4-of-10 shooting. He was followed by Dixon with 9 and senior Justin McKinney (Detroit, Mich./Mumford) with 5 points and 11 boards.
Next up for the Mustangs is road tilt against the always tough Panthers of Davenport University (Wednesday, January 5 at 7pm). Currently, the Panthers rank 19th in the NAIA while boasting a 14-3 record (10-1 at home) on the season. After Wednesday's contest, the Mustangs will stay on the road to visit Indiana Tech before a Wed., January 12th matchup at Rochester College. The upcoming stretch of games will undoubtedly be a test for the Mustangs as they look to turn their 5-11 record around against some of the areas finest teams.